When you buy through links on this site, I may earn an affiliate commission at no extra cost to you. Learn more
Treadmills might be a great piece of equipment to fulfill your cardio workouts, but some people constantly complain of knee problems and other pains or discomfort after exercising on them.
If you have bad knees, that would be a tough thing in your daily life. According to NCBI's studies (1), and (2), walking on a cushioned treadmill helps release your knee pain and improve your body's balance and stability, thus enhancing your life quality.
So, which treadmill is good for bad knees? We know that not all treadmills can improve your knee problem. But according to LiveStrong.com and HealthLine.com, if you want to choose a treadmill for your bad knees, a treadmill with supportive cushioning and at least a 3% inclination is necessary.
Our Top Picks
Product
Features
Price
Rating

Zwift-certificated treadmill
Bluetooth connectivity and HR strap
22 x 60" deck with 3-zone cushioning
Sprint 8 HIIT program for fat burning
Low impact with 0-15% incline

9.7



Comfort Tech™ deck cushioning
Adjustable HD touchscreen to stream your favorite shows. (Netflix, Hulu, HBO, etc.)
10" interactive console
0 – 12 mph

9.8

16 workout programs and 2 user profiles
10% motorized incline & 10 mph
SoftTrak Cushioning System for a smooth run
Integrated heart rate contacts grips

9.4
In a hurry? The following is the list of the best treadmills for bad knees:
You can see the overviews, pros & cons below. Enjoy!
How to Choose a Treadmill for Bad Knees
Having a bad knee doesn't cause an individual to come up with lame excuses to refrain from exercising. Still, practically, it is evident that exercising is truly a painful affair for them.
Contrarily, the same exercise can reduce pain, provide flexibility to joints, and even improve one's balance and stability.
There are different treadmills, each having its highlight designs and advantages.
For someone specific about reducing knee pain/joint problems by walking on a treadmill, it is ideal to choose those models with features that can minimize stress on the knees—better cushions.
Once you are given a green signal from your doctor for working out on a treadmill (doing low-impact exercises such as walking), there comes the primary problem of choosing the best treadmill for bad knees.
The main features that must never be compromised when you plan to buy a treadmill for knee pain include a cushioned belt and stability. A treadmill equipped with supportive cushioning is best for those who have osteoarthritis, as it lowers the impact on your joint, either for walking or running. 
The presence of a cushioned track reduces the impact of the workout on the knees/joints by as much as 40% compared to working on hard surfaces.
For greater stability that causes no surprise impact on your joints, it is always preferred to select a model that weighs 50 pounds or more.
How to Protect Your Knee While Running on a Treadmill
Firstly, running is a high-impact activity, and secondly, running on a treadmill is different from running outside on the park/road.
If individuals don't understand this difference and don't take extra care to stay safe from injury, they can hurt themselves badly.
Given here are some tips to protect your knees from further pain aggravation while running on a treadmill. Posture is of utmost importance while running on a treadmill, as this helps in muscle conditioning.
Rather than forcing yourself into a specific posture, try to stay in a natural position, making sure that your joints are not overextended or stressed too much.
For those of you who wonder how different is a treadmill surface compared to the ground surface, here is the answer to your lingering doubt—the treadmill surface is very flat, which's not so good for the legs and feet.
When there is a 3% inclination on the treadmill, it becomes as good as running on the outside ground surface and helps protect your knees and joints from injury.
Running on a treadmill with zero inclination causes pain and muscle strain for the runner's knees and feet.
This is mainly because the individuals run with the knees in an extremely straight position instead of slightly bent. In such a position, the knees cannot absorb shock properly.
It is better to use a treadmill without any motor for mimicking the same experience as running on the ground.
Also, never hold onto the bars in the front of the treadmill or even the side railings as these can interrupt the balance and cause the runner to fall/stumble as he/she gains momentum.
Besides sticking to the right posture, also ensure that you take short and quick strides to experience minimal impact on the legs.
Never push yourself any further than what your body could handle, as this can aggravate knee injuries. Keep an eye on any indication given by your body, and act accordingly.
Above all, wear good-quality shoes that fit properly, absorb shock, and are specifically designed for running purposes.
Top 7 Best Treadmills for Bad Knees
In a world where there is no shortage of new brands and exercise equipment, choosing the right one for your needs seems to be a headache.
That's why we have curated the top 7 best treadmills that protect bad knees from pain/injury by prioritizing cushioning, inclination, and speed.
NordicTrack T 6.5 Si is an entry-level and compact treadmill equipped with FlexSelect Cushioning, which helps the user mimic the outside running surface or even add extra cushioning to minimize the impact on the injured joints.
Cushioning is a must for running without causing injury to knees/joints, and the company understands this very well.
You suffer from joint problems yet find it difficult to motivate yourself to stay active by regularly exercising. If this description fits you perfectly, this cushioned treadmill is a good choice for you.
NordicTrack treadmill comes with a one-year iFit membership and various exercise programs (as many as 20 built-in programs) to help you break the monotony of exercising.
The free iFit membership helps the user access live fitness classes where you are helped with cushioning, speed, and inclination levels by your expert trainer.
You can even experience serene gardens, rocky surfaces, or snowy mountain peaks as iFit's Google Maps option gives you a choice to select from various backgrounds.
The treadmill is a space saver, too, as it comes with a folding frame design using the SpaceSaver design patent specially designed by the brand.
The EasyLift Assist technology helps fold the treadmill in a jiffy though the construction supports as much as 300 pounds of user weight.
This low-impact treadmill comes with an option to increase inclination up to 10% and a speed capacity of up to 10mph.
Pros
20 different exercise programs for user enjoyment
10-inch HD touch screen for better fun
A Free 1-year iFit membership takes your exercise experience to the next level
Easy to fold without much need to bend or lift
Excellent cushioning and great inclinations
Reasonable accessories in terms of 2 built-in speakers, cup holders, and auxiliary audio input
Cons
No built-in fan
The speed is only 10mph, and it is good enough unless you want serious running
No USB port for charging
Very compact, making the treadmill quite unfriendly for taller people
Not great inclination options
The Horizon T303 easy-folding treadmill seems to be the best fit for beginner trainers, entry-level runners, casual joggers, and walkers who are getting used to the concept of home gym training and forming a new fitness routine for themselves.
The 60" 3-Zone cushioned deck lowers the impact on your knees by 40% and provides comfortable low-impact training.
Horizon is a brand that's proud of its design and construction. The 3.0 CHP motor is optimally powerful, makes no noise, and runs steadily, making it an ideal pick interval training as it adapts to instant speed changes compared to other models in this price range.
The absence of online connectivity or provision to sync with training apps is liked by many as the machine is simple to use.
The users can get onto the treadmill, set their required metrics, and start exercising in no time.
Horizon T303 treadmill is easily foldable, making it comfortable for users to fold and put it aside, helping them use the space for something else once they are done with the workout.
Coming to the treadmill speed, it has a maximum speed of 12 mph, great enough to be a treadmill for walking, jogging, or even running. Also, this folding treadmill can be inclined by 12%.
In general, those seriously into fitness are prone to jogging, running, or walking by increasing inclination levels as this helps burn calories faster and lose weight sooner.
But, if you are someone who suffers from knee/joint problems or recovering from an injury, looking to perform some low-impact exercises without giving much trouble to the knees, you might never be using high-inclination levels, and a 12% incline must be more than sufficient.
The treadmill comes with a large backlit LCD console that displays all essential information such as speed, time, calories burned, and inclination level.
It also has several built-in exercise programs that help users in boosting performance and break the boredom.
Pros
The motor offers top-class performance and helps in changing speed without any lags.
Decent deck size for tall and big people
Three-zone cushioning helps to absorb much of the shock.
Lifetime warranty on the motor and frame, a three-year warranty period on the parts and electronics, and one year on labor.
Durable and sturdy design
Horizon has done an excellent job of moving away from the entry-level models by designing the Horizon 7.4 AT foldable treadmill loaded with ample features.
This treadmill is specially built to accommodate tall and heavy users with its extra-large deck space.
If you suffer from joint/knee pain and would like to work out on a treadmill, the Horizon 7.4 can be an appropriate choice as the company has come up with an ortho-lite belt design that minimizes strain on joints with softer settings. The cushioned running belt also has harder settings that mimic outside ground settings.
But above all, the one feature that makes this treadmill stand apart from the rest is its interactive training factor.
The treadmill comes with a 3.5 CPH motor that promises longevity due to the use of Rapid Sync Technology by the company.
This technology promises rapid speeding up and slowing down compared to the performance of other conventional motors.
Speed is on the average side at a 12 mph maximum speed while inclination is optimal up to a maximum of 15 degrees.
Apart from offering certain common program features such as iFit, the Horizon 7.4AT also offers users an option to use several online training programs such as Zwift, Aaptiv, Studio, and Treo.
This aspect is sure to lure customers as more and more individuals are moving towards online training solutions.
Pros
It comes with four different running apps, any of which could be chosen according to your needs
The company provides users with several online training apps at a discounted price
Lifetime warranty on frame, five years on motor, and two years on parts
Affordable price
Cons
One must have their own tablet/smartphone to use any of the apps as the treadmill does not come with a  screen integrated into the console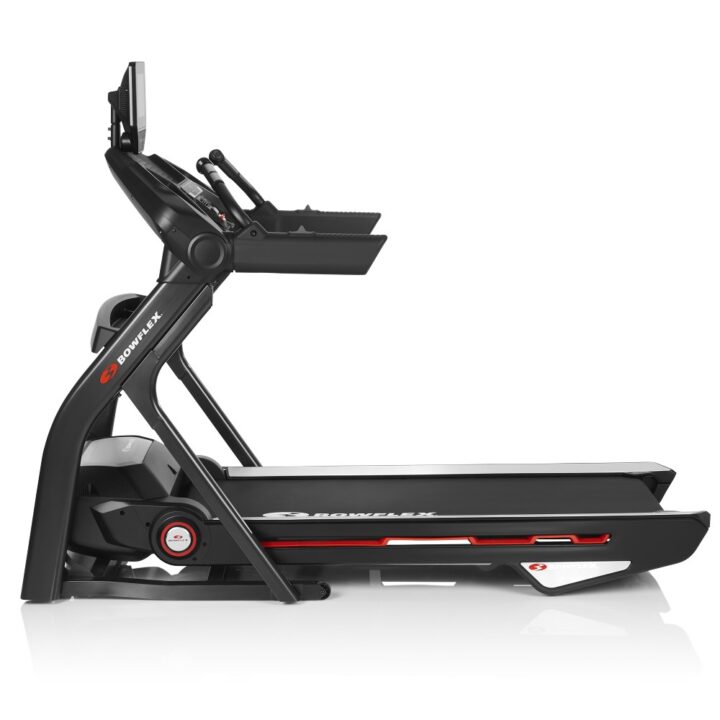 Bowflex Treadmill 10 has "comfort tech deck cushioning" and a roomy 22 by 60 inch running path. The T10 is a durable treadmill and really pleasant to use, and the shock-absorbing deck makes walking or jogging feel less taxing on joints, especially the knees.
The touchscreen that comes with the Treadmill 10 and links to JRNY programming is one of my favorite features. JRNY is comparable to iFit, however, it is less developed. Strength, yoga, and pilates courses are just a few of the possibilities available to you outside the treadmill.
The 323-pound machine is really steady, and you will not experience any shaking while using it. The T10 Treadmill's maximum user weight limit is 400 pounds, which is much more than the 300-pound industry norm. The T10 Treadmill makes the most sense to have a permanent or semi-permanent home because it is a huge, hefty piece of equipment.
Additionally, because this machine is a beast, you'll probably want to pay for professional assembly from Bowflex, Amazon, or a similar company once you get it.
Pros
The higher motor capacity runs the treadmill smoothly withstanding multiple exercising sessions
Belt roller diameter prevents easy wear and tear of the belt and the motor
Accommodates the feature to show per-minute calorie burn while treadmills, in general, show total calorie burn
Easy to fold and unfold with the help of hydraulic assist
400 lbs high weight capacity
Cons
A bit expensive
Although the T10 is actually able to be folded, it's not really a spacesaver.

The 810 model is an affordable treadmill that primarily focuses on providing the best indoor cardio workout to help users stay active.
This model can hold two user profiles and runs on a 2.6 CHP motor that cannot be graded above average. So the maximum speed is only up to 10 mph.
On the brighter side, the treadmill comes with a Softrak deck cushioning system that offers shock absorption for low-impact walking and supports users with knee injury/joint problems to run easily on the treadmill without any injury.
The inclination is only up to a maximum of 10%, which is average.
You can tour around the world, visit sandy beaches and waterfalls using the 'Explore the World app,' and simultaneously track metrics using your smartphone.
Pros
SoftDrop folding system helps users to fold and move the treadmill around the house easily
Accessories such as water bottle holder, built-in speakers, USB charging port, and media shelf
16 different workout programs
Apt for any type and level of user
Heart rate monitoring enabled using contact grips
Cons
Average inclination and speed capability
Proform 2000 treadmill comes with ProShox responsive cushioning for low-impact training and makes working out a comfortable experience.
The wow factor about this treadmill is its 50 built-in exercise programs that offer any trainer level enough challenges that help him/her stay glued to the treadmill for a lifetime.
The treadmill's highlight is its incline feature in perfect sync with the built-in workout programs increasing or decreasing to complement the resistant levels in each of the chosen programs or match the elevation present in any of the online training apps.
Proper inclination levels are integral for runners, especially those suffering from knee/joint pain. The inclination (3-15%) provided in this treadmill mimics the real-world scenario helping marathon trainers benefit.
The machine comes with a 3.5 CHP motor with a maximum speed capacity from 0-12 mph. It is also easy to fold and store despite having a maximum user weight of 300 lbs.
Pros
7 inch HD touchscreen helps to measure various metrics and experience 100s of training videos
Lifetime warranty on frame and motor, five years on parts, and two years on labor
Accessories such as tablet holder, sound system, audio auxiliary port, and speakers
Cons
No built-in fan
Average customer service

Given the price paid, the XTERRA TR150 folding treadmill is the best in the category as it has a sturdy frame construction made of steel. It is also the best budget treadmill model on this list.
The XTRASoft cushioning system reduces the impact generated by 20%, protects your knees while walking, as well as helps people with joint/knee pain run more comfortably.
The entire unit weighs around 108 lbs but is provided with transport wheels in the front and comes with a folding design, and the machine can be stored away easily.
Speed is only up to 10 mph, and this machine comes with a manual inclination option only at 0.5, 1.0, or 2 degrees.
The motor provided is par with the speed and inclination options coming at 2.25 CHP, quite optimal for jogging and running.
A clear and large LCD features all essential metrics, and the treadmill has 12 built-in exercise programs that are fixed for a standard duration of 30 minutes each.
But other than this, the treadmill does not have sound systems, a cooling fan, or a USB charging port.
Pros
Simple assembly and easy to maintain
Sturdy construction but easy to fold and move using transport wheels
Minimal power consumption
1 MPH speed adjustment option helps you find your correct workout pace
Cons
No Bluetooth feature or compatibility with fitness apps
Inaccurate calorie reading
No backlight for the console
Final Words
One is forced to use a treadmill for walking, jogging, or running when the weather is bad outside or cannot move out of the house due to various reasons.
Low-impact cardio workouts benefit people with bad knees. It strengthens the muscles around the knee, increases blood flow to the cartilage, and even increases the chances of weight loss, thereby reducing stress on the knees.
Running on the treadmill, especially when you suffer from bad knee problems, must be done with utmost caution.
You should consult a professional before making any decision. Go for a model that has an optimal cushioning option, inclination levels, and speed.
Never overstrain trying to achieve better bone health, as this could only lead to further damage to your knees/joints. Before starting to work out, always get in touch with your physician and get his/her approval.
Read Also:
References: