The sole purpose of performing lat pulldown exercise is to magnify the strength of a particular group of muscles, the lats.
Latissimus dorsi, commonly called lats, is one of the largest muscles located in the middle of the back. It stretches out laterally.
Bolstering of lats is one of the best things you can ever do to your body.
Why? Because lat movements strengthen upper-body and keep you away from acquiring back pain and injuries.
The best lat pulldown bar attachment is the one which equally emphasizes on your safety, helps to catch perfect grip with the cables, constructed with quality materials to last longer, and doesn't stress your joints as well.
Henceforth, getting a lat pulldown bar attachment, particularly the one which meets above-laid specifications, is one of the most righteous decisions you can ever take as a fitness-conscious person.
In a hurry? Here are our top 5 picks. 
See more details, the pros & cons below.
How to Choose a Good Lat Pulldown Bar Attachment?
How you are going to pick up the most consummate fit for you? Consider the following four attributes:
Effective grip
Passive knurling or aggressive knurling
Smooth motion
Considerable length
What Is the Best Lat Pulldown Bar?
Lat pulldown bars are among the most popular tools pro-level athletes used to have a stronger back.
Everyone who wishes to get relief from back injuries can drill on with lat pulldowns.
Lat pulldown, an exercise in which an individual pulls the long horizontal steel bar towards his/her collarbone.
Some prefer lifting it towards the chest bone. This bar is supported by a sturdy machine.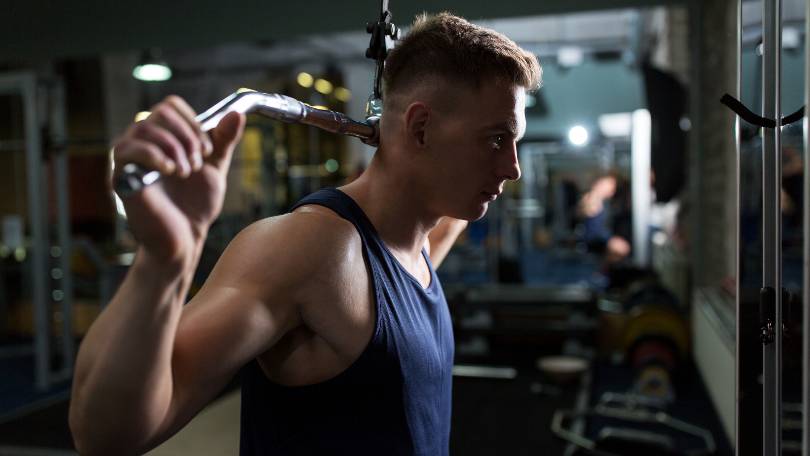 Even during squats and deadlifts, lats stabilize your body posture. These muscles balance the bar on the back and protect spines.
Subsequently, it is rightfully said that stronger lats lead to stronger everything else.
Once you build up your back in the right way, you will be doing brilliantly at squats, bench press, and deadlifts too.
There is a vast variability in shapes given to bars. Some are entirely straight from end to end, whereas others have a bend at both ends.
And those are bent at ends permit greater ease of pulling activity.
The great variety can also be seen in design, weight, length, and grip.
Primarily, the main targets of lat pulldowns are latissimus dorsi muscles. But, deltoids of the shoulder, back of the arms, and biceps are also impacted in a better manner.
Check this video for more information about how to do a lat pulldown.
Top 5 Best Lat Pulldown Bar Attachments
The market is flooded with numerous variations in the kinds of lat pulldown bars. Some are excellent at the grip, and some are too smooth with the movements while others are endowed with supreme durability.
The thing that remains common is the splendid experience of muscle-building exercises. Many of lat bars are multitaskers consolidating important muscles, other than the latissimus dorsi.
Keeping the above benefits in mind, here is the compilation of best lat pulldown bar attachments.
Ivanko Bar is made of heavy-duty steel, and this highly polished, chrome plating lat pulldown bar offers maximum weight capacity up to 400 lbs.
This straight bar is 34-inches length. To be more accurate, it is 36 inches when including the safe rubber bumpers at both ends.
And compared with other typical 20 to 22-inch straight bars, it can provide more workout choices.
Its deep, custom-knurling can provide sufficient grip while not harming your bare hands.
Pros
The knurling gives a great feel to your hands
Lightweight (9 lbs) but solid
The swivel rotates very smoothly
Cons
Some people still think it's not long enough
Champion Lat Bar is a solid bar that made of heavy-duty chromed steel. But you will find it fairly easy to attach on no matter a lat machine or cable machine.
It performs smoothly while using it for pulldown workout. Also, there is a small hole in the middle of this bar; that way, you can add lubricant in it.
The overall length of the Champion Pro-Style Lat Bar is 34.5 inches, and the distance between the two edges of the grips is about 32 inches.
Priced at under $50, it will be a great choice if you want to save some money.
Pros
Worth best the money
Sturdy and very solid
Suitable for both men and women
The length of this bar is great
Cons
The knurling is very aggressive
Built with durable steel, this lat bar enables you to perform exercises in the utmost level of comfort. And its pro-style can allure anyone.
This imperative tool is easy to attach to the lat machine. A wide grip makes it easy for you to relax your shoulders and back.
The muscles engaged are rhomboids, serratus anterior, middle and lower trapezius, besides the latissimus dorsi which is always the major target of every athlete doing lat pulldown.
Pros
More comfortable pulldowns
Straight and sturdy
Can be easily attached
Cons
The bar may not be balanced lengthwise
Knurling makes grip rough
Knurling is a bit forceful
Introducing a multi-colored bar that is amazingly compatible with most of the high pulley cables.
Made with sturdy steel, it is all set to provide you fabulous exercising experience.
The most phenomenal characteristic is the presence of a central swivel rubber grip. The movement of the central swivel is very smooth. T
his makes BODY SOLID highly admired by many athletes.
Pros
Easy to attach with any cable
Smooth movement
Cons
The packaging could be better
The last one in this row is a stunning piece of equipment with durable steel fabrication. The strength is stimulated even more by chrome-plating.
Best suited for convenient grips with the swivel cable attachment and six positions of rubber grips.
The presence of swivel cable enables free rotation and keep the grip intact in one place.
Measuring 38 inches in height and 10 pounds in weight, this versatile machine targets multiple muscles at a time including triceps, biceps, and of course, the lats.
Pros
Durable and Sturdy
Great grip
Smooth rotation
Cons
There is a heavy coating of lubricant
The Verdict
If a rough grip doesn't annoy you, then you can blissfully go with Champion Pro-style lat bar.
It is also more comfortable with its pretty wide grip section and bent handles placed at the ends of the bar.
Body-Solid Bar and Valor Fitness Bar catch the lead through the involvement of central swivel that promotes flawless motion. Body-Solid Bar also fascinates athletes with the D hooks attached at the bar terminals.
All of them are powerful enough to continue exercising for years to come, and all five offers amazing versatility with more than one muscle as the target.
The points of difference don't vary much.
Choose any one among the list, and you will find yourself performing remarkably good pulldowns in the greatest degree of extravagance.
You are sure to receive your goal in every case—the stronger lats.
Get ready to set your muscles towards enhanced endurance with the best lat bars.