Pull-ups are exercises that excel in judging the relative strength of an individual with respect to his/her body weight.
Home gyms are becoming a popular affair these days and individuals focus on getting one equipment that can provide whole-body workouts.
In that regard, finalizing the best pull up bar for an apartment is the ideal way to go about your fitness requirement.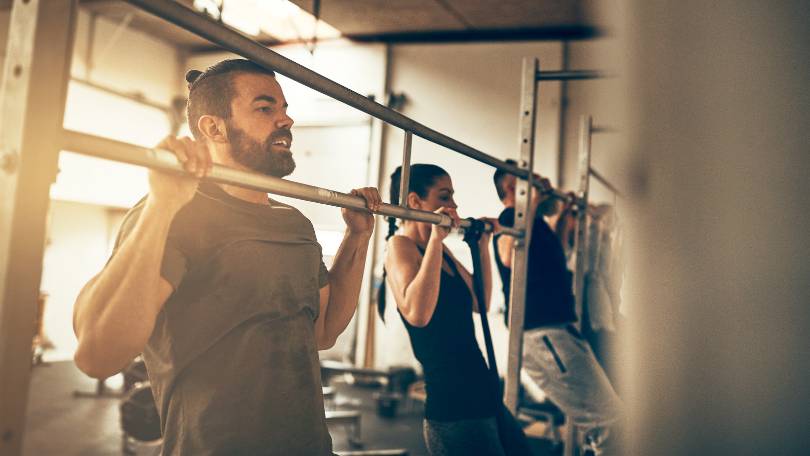 Exercise must be a part of our daily habit just like brushing teeth or having a bath.
If you don't have time to go out and exercise be smart enough to invest in a home gym equipment that's versatile and offers greater benefits in the comforts of your home.
Your home might be big or small, you might be living together or alone, irrespective of all these pull-up bars are an excellent choice to strengthen your muscles (biceps, core, and upper back.)
As it's easy to install and provides evident results with regular use.
Precisely, a pull-up bar is just a simple piece of the bar that could b fixed on the door frame or attached to a wall of your choice to support body weight without shaking hard.
Our Top 5 Picks
See the details, pros & cons below
How to Choose the Best Pull Up Bar for Apartment
With only a bar doing all the job for your muscles some might even begin to wonder what's there to pick and choose in a pull-up bar.
Surprisingly, no equipment is simple as we have quite many variations in each-wall pull bar, fixed drawbar, doorway bars, and the choices go on.
Earlier, it was pull-up stations and full-size bars but now we have wall-mounted and doorway bars that are far more versatile, comfortable and easy to exercise making them one of the best choices for a home gym.
Ensure to check out the following factors before you zero in on your choicest pull-up bar for the apartment.
Weight
This is indeed the primary criteria that should be met and for this please weigh yourself before you make a purchase.
Select a model that offers adequate weight support.
Most bars can bear between 300 and 500 pounds of weight but there are some that can withstand up to 600 pounds as well.
Try out the bar before purchasing to test its weight-bearing capacity else it might lead to severe injury.
Ideal Place
Each of us has different places in our mind to set our home gym and it is ideal to choose a bar that suits the place.
For a door pull bar ensure that you have enough doorway space to fit the door, if you plan for an over the door pull up bar don't buy one without knowing that your door is sturdy enough to support your weight.
For a wall-mounted bar assembling it properly is critical otherwise you might land on the floor with the bar pulled out.
Preferred Exercises
Every type of bar is specialized to perform certain kinds of exercises.
Muscle-ups cannot be done with a ceiling-mounted bar but a door bar too might not support you with the required stability and the best option would be to purchase a wall-mounted or free-standing bar.
Design & Padding
While some bars can sit firm in the doorframe some others require assembly with screws and wall mounts.
Though slip-in bars are easy to fit they might not provide long life compared to screwed-in bars.
Again, we have large bars that offer more grip and small bars that go well with small spaces.
Placement of the bar too is important to perform exercises without hitting your head or injuring body parts.
A basic doorway bar is a horizontal piece of equipment that is great for doing wide/close grip pull-ups or chin-ups.
Padding is another important feature that safeguards your exercise space.
Wall padding is essential to avoid damage to walls, prevent them from digging into doors and ruining the wood and padding at the edge of the walls is crucial for helping you hold them comfortably while exercising.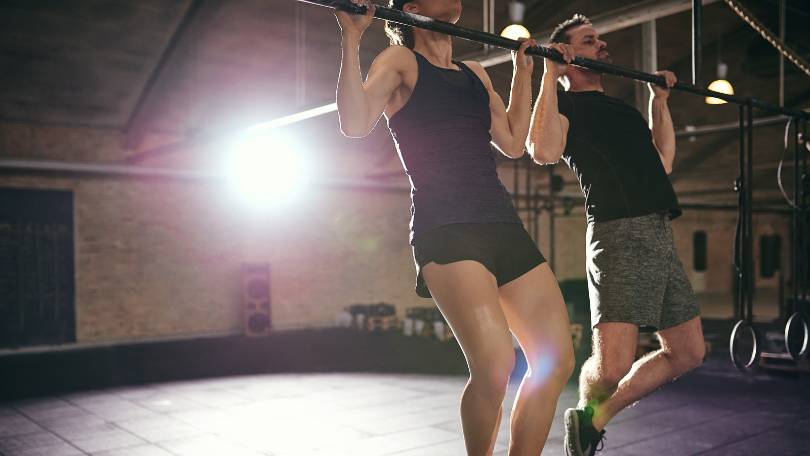 How Good Is It To Get a Pull Up Bar Fixed in Your Apartment?
The simplest equipment guaranteeing fitness it shouldn't be surprising to find that some homes don't have one but many have more than one pull up bar installed around different places of their home.
What makes them a fan of it or in fact why should each of us think about getting this for our living spaces?
Inexpensive & Advantageous: Gym memberships cost hundreds of dollars, setting multiple gym equipment at home would cost a fortune and in this case, setting up a pull-up bar is the best option as this is a piece of affordable equipment that guarantees results starting right from around $50.
Encourages Fitness: You might actually go to the gym but on days where you are literally bored to get out of your home doing a few reps on this bar fulfills the day's exercise task.
Figuring out the best pull up bar for an apartment promises good upper body workout, especially hands and abdomen too.
Walking is good but combining it with this kind of equipment brings about versatility in training.
Minimum Space Requisition: Pull up bars don't occupy spaces and are easy to install.
Moreover, they can be used by both men and women to reap benefits in the form of muscle toning, strength training or even when trying to get in shape.
Top 5 Best Pull Up Bars for Apartments
We have given below a concise list of the best pull up bars for an apartment keeping in mind all of the concepts discussed above. This would help you come up with a final decision of your choice.
#1. Stamina Door Gyms
Easy to fit behind the doorframe without any screws or drills, this doorway pulls up bar is made of sturdy steel with great padding for a comfortable hold.
The design has padded U-shaped rings that help the user perform up to 5 chin-up and pull-up variations.
When fitted outside the doorframe the same equipment is versatile to perform pushups, dips, and sit-ups.
A good piece that helps you do upper body workouts but has a weight-bearing capacity of up to 250 lbs only.
Still, you can do three different normal grip positions and two hammer grip positions.
Pros
Coming from the house of 'Stamina,' a well-known fitness equipment manufacturer, this pull up bar is sturdy, comfortable and durable
Five different grip positions
Can be used outside, inside or on top of the door
Priced economically
Cons
Bears less maximum weight comparatively
Not suitable for certain doorway sizes
#2. Ultimate Body Press XL
Anything unique makes us yearn for it and the ultimate body press XL is one of the few elevated pull-up bars available in the market with an appreciably extended frame.
If you are someone very tall unable to find the right pull up bar this could be the one for you having a weight-bearing capacity up to 300 lbs.
The design is suitable for performing a variety of exercises including chin-ups, dips, different pull-ups, push-ups, sit-ups and more.
Extra accessories such as ab straps and gymnastic ring available at an extra price help in doing full-body workout using minimal space.
The equipment has ABS couplers that provide rigidity to the frame and stability to the wall.
The expandable bars are suitable for fitting any doorway length right from 24 inches to 36 inches making it an apt choice.
Pros
Versatile equipment for performing a variety of exercises
Accessories option provides the user with the choice of fulfilling full-body workout requirements
A piece of good equipment for rented spaces and temporary fixations as it requires no screwing or drilling
Easy assembly and refund policy available
Sturdy and safe with ABS couplers and suitable for taller people and narrow/wide doorways
Cons
Thin padding
Heavier
Expensive comparatively
#3. Garren Fitness Maximiza Plus
This could be the ideal choice for bigger doorways from 35-50 inches-a length that's not available in regular bars but this does require screwed-in wall mounts coming with 2 heavy-duty (supports up to 300 lbs) and 1 medium-duty door mounts (supports up to 150 lbs).
Though a large bar, there is a non-slip foam that covers almost its entire length helping you get a good grip on it.
The padding enhances further comfort while doing exercises improving your grip even more.
The design accommodates different workouts including pull-ups, chin-ups, sit-ups, crunches, leg raises and dips enabling to strengthen your arms, shoulders, back and abdominal muscles.
Pros
Perfect upper body workout
The adept choice for wider doorways
Non-slip grips and heavy padding protects your palms offering strong grip while exercising
Different types of door-mount kits enable users of different weights to exercise
Cons
Doesn't fit into smaller doorways (lesser than 35 inches)
Maintenance in terms of checking and tightening the ends needed just like any doorway pull up bar
#4. Iron Age Pull up Bar
This pull up bar is popular among fitness-conscious people and pull up lovers as its well-known for its durability and versatility of performing different exercises right from doing pull-ups and sit-ups to push-ups and multi-grip pulls (neutral grip, close grip, wide grip) too focusing on different muscle groups of your arms, shoulders, and back.
An extremely simple design constituting only one horizontal bar this equipment needs no assembly but can be directly mounted on the doorframe with the help of the 2 sleeves provided for door safety.
The smart hook technology here minimizes force exertion done due to exercise improvisations by decomposing the downward force thereby protecting the door frame.
This piece of equipment can bear weight up to 440 pounds and is suitable for tall individuals as the upper handlebar provided is 6 inches helping them avoid bending their knees while performing.
Pros
Zero assemblies required
Supports higher weight range and benefits taller people to perform exercises conveniently
100% safety to your door using protective pads
Comfortable, durable and versatile allowing for performing different exercises
Cons
Only one single bar that restricts the performance of some pull-up variations
Not quite affordable for all
#5. ProSourceFit Multi-Grip
While the novice exerciser might not be able to enjoy the versatility of the ProSource bar, this piece of equipment is a boon to the advanced trainers as it allows them to perform 12 different grip variations.
The double-bar design facilitates the performance of different grip hammer pull-ups and the presence of 12 different foam grips makes it non-slippery.
The multi-grip positioning advantage helps the user to do different exercises such as push-ups, pull-ups, chin-ups, dips and abdominal crunches benefitting different muscles such as biceps, triceps, core, shoulder, and chest.
The frame and construction are sturdily made of high-quality steel, the U-shaped rings keep it secure and foam padding at the edges prevents any damage to the wall when mounted.
This equipment can bear weight up to 300 pounds and the extra perks include an exercise guide that helps you commence your workout routine in a precise manner.
Pros
Lightweight design and easy assembly taking not more than 15-20 minutes
12 different grips bring about versatility in exercising, especially for the bicep muscles
Lifetime warranty
The high-quality steel assures long life
Affordable cost
Cons
Not very comfortable for taller people as the wide grips are not elevated reducing ease of performance of hanging leg raises and other motions
The padded edges are made of thin plastic that might disturb doorframe
May not fit all doorway sizes as it is most compatible for those up to 32-34 inches
Conclusion
A pull-up bar is not a child's play but requires intense energy to perform the exercises as it is a strength training platform helping the user build muscles.
Before you finalize on any pull up bar analyze your needs-are you a beginner, intermediate or advanced trainer?
Depending on your choice it is wiser to look for versatility, numerable grip variations and provision for whole-body workouts with accessories in place.
Then, look at the design, frame, and construction focusing on high-quality materials and the guarantee they provide in safeguarding your doors and walls.
Above all, check for the price and ensure that it's worth the buy for all the money spent on the chosen piece of equipment.