When you buy through links on this site, I may earn an affiliate commission at no extra cost to you. Learn more
One of the must-have equipment for a gym is a proper squat rack, be it a home gym or a commercial one. When it comes to a pull-up bar, you get to do more along with saving space. Which is the best squat rack with a pull-up bar? If you want to jump to a conclusion without reading the entire article, here it is. The Rogue SML-2C Squat Stand is a clear winner.
It comes with a sturdy rack and at a reasonable price. It is also tall enough for even taller people and has a great weight capacity suitable for even advanced users.
Apart from doing several exercises, you can also improve it further by adding necessary equipment to complement its use. The open rack design makes it possible, and you have several accessories for this purpose by Rouge itself.
Quality steel and the cost finish used keeps the rack as good as new since it prevents rusting. Such a good balance of quality and price is possible only for this rack because it is a rare combination, and SML-2C is made by just keeping this in mind.
Its strength, durability, and cost are all positive factors of this rack. The neat finishing with laser cut holes is another mention-worthy feature that makes this rack stand out from the others.
Here is a list of the 7 best budget squat racks that come with a pull-up bar, but they are well rated for their standard.
Along with few budget-friendly squat racks, you also get to know more about the equipment, how to work with them, and guidance on choosing the right racks that suit you are also discussed below.
Benefits of Doing Pull-Up
Pull-ups are highly beneficial as you get a total body workout along with several other advantages as below.
You get to work your core, biceps, back, and shoulders which are the major muscle groups in your upper body.
If you are looking to build the bulk in your arms and tone your back, push-ups are the ideal workout for this purpose.
As you learn to have command over your own weight when you lift your body while gripping the bar, it will be useful to perform several other workouts such as bench press.
It improves your muscle endurance since the push-ups power up the ability of your arms, shoulders, and back allowing them to continue working for longer periods.
As you start working, you will realize many more benefits that will improve you physically and mentally, making you completely fit.
How to Choose the Best Squat Rack with Pull-Up Bar?
The squat racks are a one-time investment for a lifetime of workouts if you choose wisely. Hence it is important to put your money on the right product that will be useful for a long time.
Material
The material of the squat rack frame, pull-up bar, and safety catches are to be assessed. You should make sure that the rack is strong enough and made with quality material. It should not break or bend when it holds the designated weights.
Usually, you find 11-gauged to 14 gauge steel that is very thick and gives you excellent strength. They are powder coated to prevent them from rusting. Also, that makes the stands look good. And the gym racks produced by Rogue Fitness are all in line with these requirements.
This is especially useful in commercial gyms since their equipment stays as good as new even after considerable usage.
Dimensions
For squat racks, both the height and footprint are important as they are usually long and occupy large space. Hence it is important to know all the dimensions of a power rack and check if it fits your place.
Else you might end up where doing push-ups is impossible, or sometimes even the rack would not fit as the ceiling is low. Coming to the breadth and width of the rack, it occupies a considerable place; hence make sure that the room you are planning to put this rack in is spacious enough or choose a short squat rack that can fit well in your low ceilings' room.
Remember that you need to walk around even after the bar in its place or when the weights are on the bar.
Stability
Usually, racks stand on their own and come with a stable mechanism without reinforcing them with pegs. The heavyweight of the squat rack is more than enough to keep it steady, but they still come with good support to ensure your safety.
You can perform several exercises that might cause some force, but still, these stands can withstand that strength.
Accessories
Some squat rack with accessories like lat pulldown or pull-up bars. Some of them are compatible with accessories made by the same company or other prominent companies. You may need to buy them separately, which are at times expensive.
Check the required accessories, compatibility, and cost before deciding on the stand, as they prove to be important in the long run. You may require accessories such as a bench, fastening bolts, weights, and similar equipment, which can be bought at your convenience or when you level up.
Price
Quality depends on the price, and it is true in most cases. But the manufacturers are trying to give most by increasing their standard and including few extra features, so look carefully before you buy as you might get a good deal at affordable prices.
However, going for very low rates is not advisable as flimsy hardware cannot support you well. Maintaining the price and quality balance is the key here.
Top 7 Best Squat Racks with Pull-Up Bar Reviewed
Health consciousness is a growing interest these days, and many people are choosing to stay fit through exercises. As outdoor exercising or gyms are not as safe as they used to be, many are opting for squat racks, and here are few suggestions that can help you choose one if you are also looking.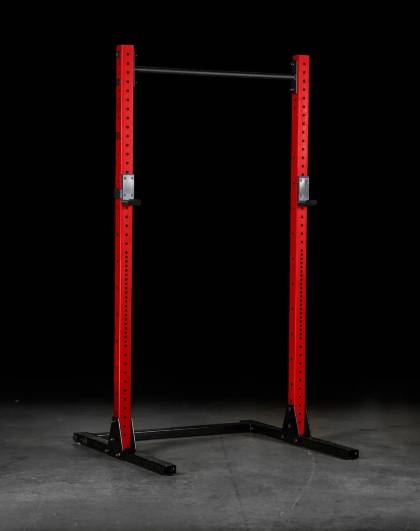 The SML-2C is a stable squat rack by Rogue which fits in a small space yet gives you an efficient workout. It is also budget-friendly compared to power racks, but still, you get excellent quality equipment.
It comes in 12 varieties of bright green, burnt orange, dark blue, dark red, gunmetal, desert tan, light grey, rogue red, satin black, satin clear, and white. The number of accessories provided with this stand helps you perform several workout regimes such as bench, squats, pull-ups, floor press, clean pulls, and many more.
This squat stand is versatile and delivers excellent strength since it comes with 3×3" 11-gauge uprights made of steel. It is highly durable due to its tough make and also because it is an American-made product.
Its stability is ensured using the triangle-plate base and the bolt-together design of the rack without the need for a permanent setup. The total height of 92" is ample for most people. You get both the fat and skinny pull-up bars with a height possibility of 80.5" and 88" respectively.
Though it weighs only 157lbs., it is capable of handling a load weight of 1000+ lbs. The black zinc hardware blends well with any color of the stand and gives it a well-designed and sophisticated look.
Pros
Laser-cut holes with neat finishing and precise dimensions
Compatible with additional accessories by Rogue
Warrantied for lifetime
Cons
Requires weighing down for kipping pull-ups
No spotter's arms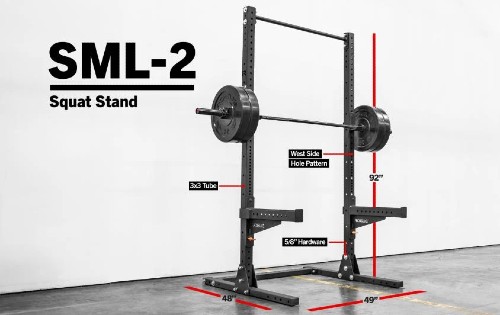 This versatile rack delivers excellent strength and has nearly the efficiency of a power rack. Even though it is compact, it does not compromise on functionality or stability.
Since it comes with heavy-duty capable steel of high quality and features a Westside pattern for spacing the holes, it does prove to be highly resourceful. As it is American-made, you need not doubt the quality of its build, and the Rogue brand does back it up with a lifetime warranty assuring the same.
The small footprint it features makes it suitable for smaller spaces and larger ones equally well. You need not do any additional permanent installments unto your wall, which gives you the advantage of moving the equipment from one room to another if needed and saves your walls.
This stand is capable of handling 1000 lbs. of load capacity. The SAE grade 5 rating makes the bolt hardware tough enough to withstand the abuse you may put through years of workout.
You can do clean pulls, bench, pull-ups, floor press, squats, and so on using this stand. Individual inspection of each piece during the process, after coating, and before shipping ensures you get a complete set of the stand and without any defects.
Pros
Top-quality equipment made with US steel of 11-gauge thickness.
Affordable price range
It fits in a compact space.
The black powder coating finish
Clean Laser cut holes.
Cons
Accessories are costly
Kipping causes a rocking motion.
The CAP Squat rack is one of the reasonably priced stands with a 600 lbs. load-bearing capacity. It is made of 12-gauge and 14-gauge steel, solid enough to resist wear and tear and support your workouts.
This rack's durability is further enhanced due to its powder coating, making it a worthwhile investment. A squat rack needs to be equipped with safety measures to prove dangerous if it is not.
Suppose you were doing a squat and failed. This rack has a fail-safe mechanism that does not let you down. The same is the case with the loaded bar. Everything has made sure that you can safely perform the exercises even when you are working alone.
The 85 inches of height is ample enough for you to do your chin-ups and pull-ups easily. Another interesting feature is the storage facility for weights on the rack itself. There are places where you can place them.
Finally, you can also enjoy the six posts to accommodate bands capable of increasing your resistance and aid you in performing several exercises. This multi-functional equipment will prove to be a useful addition to your gym.
Pros
Two Safety catches for managing failed actions.
The decent looking machine at an affordable price
Versatile functionality that extends more upon adding accessories
Heavy-duty steel with a powder-coated finish is highly durable.
Cons
The Pull-up bar is rated only for 300 lbs.
This 800 lbs. capacity squat rack stands true to its name of Hulk as it is of commercial standard and has a lot to offer. Though it is a high-end model, it does have an exceptional quality that does justice to its price.
If you are a fitness-savvy, it will take one look to understand what I am speaking about. Also, it is huge compared to the other models we have seen till now. Especially you need to measure the height of your ceiling to check if it fits well into your space before you buy one.
Most gyms prefer this model for its majestic appearance and equally good performance. As it comes with several accessories responsible for keeping you safe, you need fewer things to worry about.
The two different bars provided to do pull-ups come with varying diameters allowing you to choose the best suitable one for your grip. It is fully equipped with dip bars, j-hooks, weight holders, and safety catches to make your workouts easy even when you are alone.
The assembly is easy and does not take a lot of time. Since all the required tools are included, you need not search for tools or buy them but simply start with the work.
Pros
Large catch bars for extra safety
Rubber feet keep the rack from moving.
Heavy-duty equipment that lasts for many years
Cons
The F2C is the basic model with a pull-up bar and a squat rack that occupies minimal space and comes at an affordable price. It has a facility to adjust the height of the barbel rack for up to 29 levels. The J-Hooks are removable easily if you don't need them for the time being.
This inexpensive equipment is ideal for home users. It is made up of steel of 2"x2" frame coated using 3-step powder coating to ensure its durability. The total body exercise you get using this rack is enough to tone up your muscles.
It can bear 550 pounds of maximum weight and enough for most users. The bar catches provided can assist you while doing squats, curls, deadlifts, and so on. Similarly, the overhead bar is useful in utilizing your body weight for workouts such as chin-ups, pull-ups, dips, squats, leg raises, and so on.
You might need to wear gloves to attain a good grip while doing these workouts. The base comes in an H shape which gives ultra-stability, making it safer. The connection is made secure using the triangular lock system.
Pros
Effective finishing coat that prevents it from rusting
The overhead bar is well reinforced.
The adjustable height of the frame is convenient enough.
Higher and lower settings for various exercises
J-hooks for handling the barbel rack
Cons
No knurling on the overhead bar
The safety bars provided are small.
The high-quality equipment by Fitness reality is highly useful for years to come due to its extreme durability. Due to its compatibility with other equipment manufactured by this brand, you can add more accessories to improve its performance further.
You will not regret investing in this dense steel framed rack of a 2"x2" sized tubular steel frame that is capable of holding 800 lbs. This weight capacity is ample enough to allow even heavy lifters to use it.
This rack is equipped with safety bars that aid you when you miss during weight lifting when alone. There is also safety catches outside the cage to support you when exercising in front of the cage.
The bars are placed strategically at various levels to give you different kinds of exercises. Particularly, the pull-up bar is designed uniquely, which is appreciated by many who like this workout a lot. No anchoring is required as the cage has a stable structure by itself.
The 19 levels adjustable handle is customizable to your requirement to provide you with a total body workout. It comes with two rear support bars that ensure the stability of the cage structure when you are doing strength training.
Pros
Safety bars are made of chrome and are 23" long.
High weight-bearing capacity is sufficient even for heavy lifters.
Upgradability is a plus point since you can go on improving it.
Safety precautions provided keep you safe from accidents.
The 84" cage is good enough for most people.
Cons
Need to buy weight plates separately
It does not come with a bench.
This is another basic model which also comes at an inexpensive budget price that gets the job done. It is highly preferred by fitness enthusiasts for many reasons, with its high functionality.
Since it can hold only 300 lbs. of weight, it is not recommended for professional weightlifters but suitable for beginners who are yet to embark on their journey. The steel frame comes with a thickness of 2"x1 .5", and it is not as sturdy as the other racks mentioned above.
However, it is enough for its weight capacity and works well for what it is designed for. You can do your catches or pull-ups without any issues till you stay within the limit capabilities.
This rack is enough for people looking to keep themselves fit but not looking for weight training to increase their weightlifting capability. The safety catches provided on the outside are useful in keeping you safe if you have a mishap with the lifting.
The storage facility to store weights and the knurling on the bar are a couple of mention-worthy traits of this frame, as you cannot usually find these features in such a basic model. Rubberized feet give the rack a good grip and prevent it from slipping.
Pros
High-quality steel has a long lifetime.
The Pull-up bar gives you a good grip to hold on well.
Affordably priced equipment
Cons
Not suitable for commercial gyms
Low weight-bearing capacity
How to Squat and Get the Most out of It?
Squatting works out the longest muscle, which is prone to deposit a lot of fat, and working this muscle helps in both losing weights and toning your body. Not to mention the excellent endurance it develops that helps in every other action that uses these muscles.
You start with adjusting the height of the empty bar to the correct position based on your height. It is proper when you can grab the bar at arm's length. When you are all set, keep your hands on the bar nearly shoulder-width apart and grip it tightly.
Make sure your hands are positioned equally from both sides to balance the weight correctly. Check for the notches or knurling, which will help you to do this. Now duck under the bar and keep your head in the center while the bar sits on your shoulders but not the neck.
Finally, have a strong foothold while you lift the bar off the rack and start squatting. Make sure you keep your posture and let your middle part bear the weight.
Squat racks are highly beneficial as they help build your body efficiently by moving every muscle group, using the variety of exercises you can perform using the equipment.
It gives you an overall workout that works for many muscle groups at a time that allows you to improve your functional strength.
Squatting makes your muscles flexible and aids in several other actions such as running, jumping, and kicking, making this training useful.
Burning fat becomes easier as your muscle mass increases.
Knee injuries can be less traumatic or avoided due to the strength gained in them using squats.
There are many other such advantages, of which one the main advantage is to increase your strength and reduce the chances of injury.
How to Do a Pull-Up?
Keep your hands at a distance of shoulder length and hold the bar using an overhand grip. Let yourself hang from the bar with your weight on your hands and cross your legs, pulling them up easier.
In this position, your legs are not touching the ground. Now pull your elbows down to gather strength for pushing your body up.
Make sure to pull yourself up till your chin is above the bar's level from where you will lower your body, which makes one repetition. Chin-ups are also performed similarly, but they use an underhand grip.
Read Also: