Are you up to build your garage gym? One box that should get checked on your list, a power rack. The Rogue R3 power rack is fully functional, highly durable, and powerful. Owning a garage or home gym has a great feeling of its own. When I talk about this rack, certainly, I mean it. This rack has a lot to offer and very little to make you question buying it.
If you manage the space and want to maintain a proper distance between everyone, don't fret because this power rack isn't take up a lot of space. Just bolt it down to the floor and get ready for a workout.
Do you plan for an endurance workout? If yes, then using this rack will come in handy for sure. Exercising on this power rack will make you challenge yourself and push the boundaries. If your main focus is your physique, then mark my words, The Rogue R3 Power Rack isn't going to let you down.
If you practice regularly and increase the workout significantly, you are looking at a great pair of biceps and triceps for sure.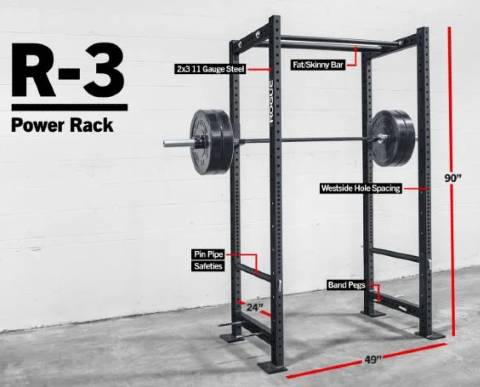 What I Like
There are tonnes of things that you will like about the Rogue R3 Power Rack. Let's have a look at some:
The Rogue has kept in mind the safety setup and hence, has provided a 1-inch hole (Westside) in The Rogue R3 Power Rack.
If you are completely sure that you've bolted the rack, focus on your workout because it won't sway a little.
It is perfect for a garage gym because it's a low profile rack so that it won't bother you for a perfect spot for itself.
The Rogue R3 Power Rack is very easy to assemble, but I would recommend that you get some extra help.
Looks can be deceptive? Not in this case. The Rogue R3 Power Rack is as strong as it looks. The finishing on the body won't leave so easily. It's made to be the best for you.
It has been tested, and the results are positive. The Rogue R3 Power Rack can hold up to 1000 lbs without creating any disturbance.
Another great thing is the versatility. You will have numerous attachments that will make you exercise differently. Hence, you won't be doing a single part of it.
You can add more to your workout by adjusting the band pegs of The Rogue R3 Power Rack.
The best part, all of these features come at a very affordable price. You can't get a better rack at such a price.
What I Don't Like
There is no doubt that a rack with such features would be immaculate in every aspect; it also has its downfalls:
Firstly, if you are looking for variety in colors, then you are going to be disappointed.
It becomes a mess when you are lining up the safeties as there are no numbers on the holes to guide you.
When it comes to safeties, pins and pipes are the things that will annoy you.
As interior depth is a concern, there is no practicality considering the plate storage.
You will have to bolt it down, or you will have to find a lifting platform; otherwise, you will find difficulties during your workout. The problem lies in the 4 posts with a small platform.
View Rogue R-3 Power Rack on Rogue Fitness
Frame and Construction
The Rogue R3 Power Rack uses 5/8" bolts and fasteners used in 2 x 3 11-gauge steel tubing. It would be better if they went for 3 x 3 racks, but I know it's still worth it as The Rogue R3 has been tested at 1000 lbs, and there were no issues. Plus, I will recommend you 2 x 3 if you will be using it for the garage gym or home.
The Rogue R3 Power Rack comes in two variants, a base version and a bolt-together version. Personally, I will refer you to spend some extra money and go with the bolt-together version, as you will get fastened with hardware; otherwise, it would be welded.
I will be honest, it sure doesn't take much space because of the small footprint, but it's an issue. If you want to focus on working out, you should bolt it to the floor or with a lifting platform. I went with the lifting platform. It took 3 layers of ¾" material with 3/8 2.5" screws.
Assembly
I would recommend you to go with my way as I'm satisfied with it and have no complaints:
Without putting the bolts in, place it to the ground where you find it fitting.
Now, with the help of your feet, keep it down to the surface by applying force on it.
Use a barbell and put on some weights to make sure it stays the same, and remove your feet.
Now, start tightening the bolts and make sure not to leave any loose.
Note: the 3/8" lag screws need a 15/16" socket to be fit.
Features
The Westside 1-inch hole is a lifesaver for short people. I personally appreciated the feature as some were too high, making it difficult for the range of motion. And some were low, which basically were meant for no use. The only drawback is the holes not being numbered.
The Rogue R3 Power Rack comes in two sizes: 24" and 30". Indeed, I found the 24" satisfactory according to my needs. But if you feel that you want some more space or you're claustrophobic, then paying a little more won't hurt you.
The Rogue R3 comes with 4 band pegs, infinity j-cups, and pin and pipes safeties. The best part is that you can adjust them according to you. Use different attachments as you are about to jump on another.
There are two bars given: a fat bar and a skinny bar. If you've mounted the power rack correctly, then you can be assured that it won't sway regardless of which bar you use.
Attachments and Accessories
Let's take a look at some attachments that you should use and some which don't have many purposes:
Worthy Attachments:
Unworthy Attachments:
Mountable Reverse Hyper: if you want one, then get one. But trust me, it will be taking up space when you're already running out of one.
Dry Erase Board: it's one of the useless things you can get. You can get a far bigger and better one but believe me, and you won't be able to write your name. What's the use of that?
Mountable Chalk Bowl: go for a bucket instead, as it's not something you should put on your rack.
Plate Storage: I will put this straight. You already have low space because of the interior depth. Even if you choose to go with one, you will compromise a far better workout experience.
View Rogue R-3 Power Rack on Rogue Fitness
Rogue R-3 Power Rack Alternatives
Conclusion
In the end, I would conclude that The Rogue R3 Power Rack is definitely a great piece of equipment that will prove to be worthy for your garage gym or home gym.
It takes shallow space and comes with numerous attachments. It can handle 1000 lbs and won't give you a problem. If you use the right attachments, you can increase its power and capabilities and go for an even more noticeable experience.
But there are some downsides as well, as the interior depth issue for plate storage. No numbering on holes, creating confusion for where to put the attachments, etc.
If you ask me overall, then you should go with this rack as it comes with appreciative features at such an affordable price.
View Rogue R-3 Power Rack on Rogue Fitness