When you buy through links on this site, I may earn an affiliate commission at no extra cost to you. Learn more
Are you looking for the best wrist weights to add challenge to your yoga sessions or other low-impact exercises? Wearable weights are also the best fit when you wish to improve your strength and balance. They give your palms and hands freedom and help you stay at your desired pace while walking, jogging, or running.
With so many brands and designs of wrist weights, how to pick the right one that suits you? And some wrist weights can't fit well to your wrist because some of them either too big or too small.
If you are a lady or people who has a small wrist, you might want to know which are the best wrist weights for your small wrists. And that's what we will show you below. These wrist weights are comfortable, adjustable, and stay well in place on your wrists.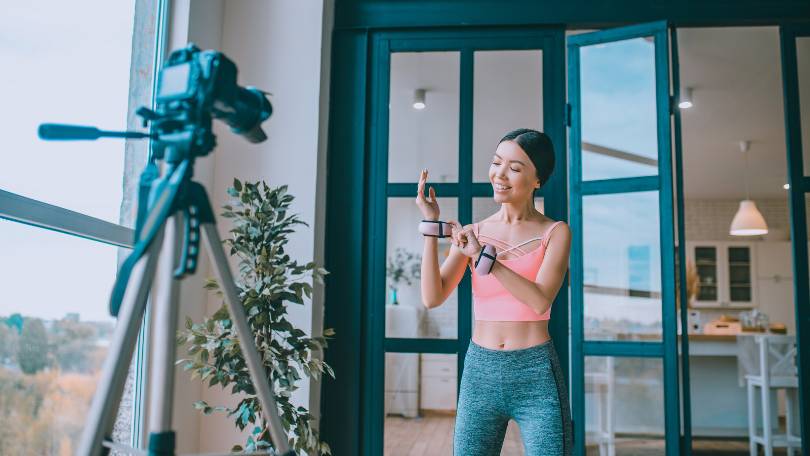 Top 5 Wrist Weights for Small Wrists
It's time to step up your training regimen using small weights that carry more of a punch than you may imagine, whether you're walking around the block or completing tough HIIT sessions. Yes, ankle weights are only one to five pounds a piece, but the burn you experience after strapping them on before a home exercise will astound you. Given below are the top 5 wrist weights for a small wrist.
For the wrist weights that come with velcro, we need to bother about the velcro's quality and its risk of coming off while doing some high-intensity exercise.
But you can forget about any of these worries with Gymnast weighted gloves that behave just like your normal gloves—the only exception being that you wear them with weights on them. Weights elevate your strength training capacity, and the Gymnast weighted gloves surely help strengthen your muscles and bones safely.
These gloves could be your perfect match for vigorous cardio, aerobic exercises, walking, or jogging. Isn't it great to know that instead of simply putting you in a challenging situation while exercising, this accessory ensures great muscle-building benefits too?
If you are a person with smaller wrists, these wrist weights are your go-to choice as the product is adjustable for any wrist size.
It comes in different weights and depends entirely on you to choose your preferred weight ranges. The price, too, is not hefty for the features offered.
Pros
Suitable for people undergoing rehabilitation or physical therapy
Apt product for beginner- or intermediate-level trainees
Affordable price
Adjustable and perfect for anyone who wants wrist weights that can handle a multitude of workouts
No fear of falling as it's shaped like a glove

This is a product that stays unbeatable in its comfort levels and quality. The wrist weight comes with reinforced stitching and soft non-slip neoprene padding that will enhance comfort and durability and make sure the weights won't slip down while exercising. It's another ideal choice for your small wrists.
You can start your exercise by simply wrapping the weights around the wrist as it is fully adjustable with the help of the extra-long velcro strap, which can be adjusted to fit into the wrist securely (depending on your wrist size) and is also easy to remove comfortably. This is a great addition to your workout routine.
People under rehabilitation programs, physical therapy, or doing yoga are ideal candidates for reaping benefits. This product comes in different weights, including 1, 2, 3, and 5 pounds, which is a good choice for men, women, and kids.
If comfort is your priority and durability is your desire, it is ideal to choose this wrist weight as it is made of good quality material with an affordable price tag.
Pros
Comfortable and durable
Adjustable strap fits any wrist size
Affordable
Cons
The design could be better
You can call it an all-in-one weight as the company has ensured that all the essential features that any customer would desire are perfectly met in this product.
The manufacturers have taken the utmost concern in choosing the right fabric that offers durability and 100% comfort. This adjustable wrist weight is made of neoprene material that promises comfort.
The velcro enclosures make it suitable for any wrist size, no matter small, medium or big. The adjustable straps make them versatile for any exercise—running, aerobics or gym.
You get greater benefits with this accessory as it adds resistance while exercising and offers a healthy overall workout satisfaction.
The product is also good for people suffering from hand tremors, rehabilitation patients, and those undergoing physical therapy.
Pros
Perfect fit for any wrist sizes
High-quality material promises durability and utmost comfort
Suitable for everyday use for all kinds of activity
Pocket-friendly
Cons
People with bigger wrists might find it uncomfortable
Break the monotony of your regular walking, running, or aerobic exercise routines with the Pro Source wrist weights.
Even better, you get to change your exercise routines into body strengthening activities—rebuild muscles when fatigued, build new muscles, and burn surprisingly higher calories using this accessory.
The product is suitable for every kind of user—men, women, and kids—as it comes in six different weight options and eight different colors, making it more attractive.
Different weight options are designed with different fabrics to offer durability and strength to the product.
For instance, 1-3 pound wrist weights are made of neoprene material, while 5-pound weights are made of Oxford nylon to guarantee break-free fillings due to the extra weight added.
Instead of stressing and fatiguing your muscles, this wrist weight helps in building up strength steadily.
Pros
Excellent color choices that are pleasant to the eyes
Variety of weight options
Affordable price
Adjustable velcro makes it ideal for small wrist sizes
Cons
Tore at seam within few months
You can use them in place of colorful wristbands! They are elegant, sleek, and catchy to anyone's eye. If you are a beginner user looking forward to some added punching exercise during training sessions, this could be the ideal choice as these wrist weights are only 1 lb each.
Instead of adding pressure and stress, these weights, in fact, add strength and comfort. The high-quality neoprene material provides added softness to the user. Don't worry about cleaning them too, as you can do it in a jiffy.
You can use it for walking, light aerobics activity, or low-intensity workouts for reaping good benefits.
Pros
Royal blue fabric is attractive, easy to clean, and durable
An excellent choice for beginners
Great quality for the price offered
Cons
The sand filling inside is not evenly balanced, and you might need to adjust it manually
Factors to Consider While Buying a Wrist Weight for Small Wrists
Wrist weights are lightweight, simple to use, easy to maintain, and deliver desired results with minimal stress to your body. These make them one of the sought-after companions that could be ideal for every exercise lover. But certain factors should be considered while choosing wrist weights, especially for those with small wrists.
1. Non-Slip and Adjustable
The non-slip feature is a must, while an adjustment function is optional but would be a better choice. Most wrist weights come with adjustable Velcro, which makes the wrist weights achieve a secure fit.
2. Comfort and Quality
Wrist weights typically range from 1 to 2 pounds, but heavier alternatives are available – and some are even adjustable, allowing you to add or remove weight as needed.
Choose wrist weights made of high-quality materials that will improve your comfort rather than cause discomfort in your wrists. The material should be able to endure all of the stress and pressure that you put it through when working out. And the material should be robust and powerful to match your workout regimens.
A high-quality product may make your workout more comfortable without losing its adhesive ability and remaining unaffected by perspiration.
3. Price
For many people, price is a decisive issue. People are drawn to low pricing, but does such gear guarantee quality? This is an important consideration.
So, are you ready to burn a hole in your pocket by purchasing low-quality wrist weights on a regular basis, or are you willing to make a one-time purchase that costs more but lasts longer?
Conclusion
Weight wrists are great accessories for light-intensity workouts. People use weights wrist while doing cardio workouts or even during walks. And they can be used as extra weight for doing bicep curls, arm exercises, or shoulder exercises.
It is ideal to go for one that comes in various weight combinations. Also, ensure that the fabric used is comfortable and durable—we don't want a wrist weight that needs replacement every few months. Above all, it should snugly fit around your wrist for a versatile exercise experience.
Read Also: