When you buy through links on this site, I may earn an affiliate commission at no extra cost to you. Learn more
Looking for a promising home fitness device? Bullworker Steel Bow is here to end up everyone's hustle. I found this ingenious equipment that would satisfy any fitness goal you have got to achieve.
So what is the Bullworker Steel Bow?
Bullworker Steel Bow is a portable home gym that you can use to perform isometric exercises, which help build your chest, tone your abs, and strengthen your upper and lower body muscle.
To present every bit of information clearly and concisely, I have written this Bullworker Steel Bow review. Read below to know everything about it.
Overview of the Bullworker Fitness & Bullworker Steel Bow
Established in 1962, Bullworker is the leader in functional training and a well-known name in home fitness. The two trending versions of exercise bow currently manufactured by Bullworker are—Classic Bow and Steel bow.
Driving your attention specifically towards Steel bow, it's a 20 inches long dumbbell created with the sole intention of building up muscular mass.
It comes with 5 interchangeable springs to toggle between different resistance levels. The range of these resistance levels varies between 0-130 lbs.
Bullworker Steel bow is admired for its versatility and great efficacy with which it targets the muscles. One can't estimate the huge number of exercises that can be performed using this, just by looking at size.
You can perform various kinds of powerful workouts, which engage more muscle group to be involved and increase strength up to 66% faster than lifting weights:
Biceps Cable Curl
Reverse Fly
Chest Compression
Triceps Extension
Calf Extension
Leg Extension
Hip Adduction
Resisted Crunch
…
Check the price of the Bullworker SteelBow on Amazon
Design of the Bullworker Steel Bow
The way Bullworker is designed reflects the high standards of the brand. Years back, the first Bullworker was designed with a spring in the core section surrounded by two telescoping cylinders.
Grips were equipped at both ends, and these ends were connected by a pair of cables. The exercise was done by pulling the cables.
Even today, this original and pioneer design hasn't undergone many changes, although some modifications have been made to improve quality and convenience.
As for dimensions and weight, the Steel bow is 20 inches long, 2 inches wide, and 4 inches in height. This is what makes it suitable for storing, and it can be tucked into drawers easily.
Moreover, the weight is just 4 lbs. This lightweight characteristic makes it portable and travel-friendly.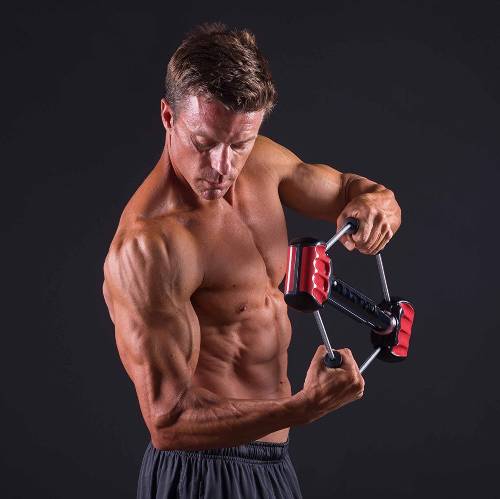 The construction is bolstered by superior grade chrome steel that adds to durability as well as appearance.
At both ends of the bow, you will find molded handles that aid in a good grip. The center tubing is made to bear high impact forces. There are still cables running on either side of the center tubing.
A slider gauge is embedded with the tubing to measure the force you are contributing to each exercise.
What Exercises Can You Perform with Bullworker Steel Bow?
Bullworker Steel Bow is a full-body workout trainer. All the exercises that are possible involve pushing and pulling.
That's how Steel Bow works. From bicep curls to lat pulldowns, everything is feasible with this bow.
Being smaller in size, Steel Bow is one step behind Classic Bow when it comes to various exercises.
Some of the prominent ones like deadlifts and calf raises are not spontaneous, yet powerful compressions like isometric pec fly are readily supported.
The design is mainly acclimated to keep the bow best suited for travel and storage purposes. But we can say, despite the ergonomic design, Bullworker doesn't compel their users to compromise with the range of exercises that can be performed.
Steel Bow still has many potentials to help you build up the muscle size of your choice.
There are five fitness manners doable with this magnificent bow. And you are free to decide which one works best for you.
Isometric – increases strength
Isomotion – enhances flexibility
Isotonic – meant for toning
Resiliency – improves cardio
Endurance – accelerate recovery
You can target the chest, arms, back, abs, and lower limbs. This small-sized device has the ability to engage the entire body.
The most admired thing people cherish about Steel Bow is its seated workout routine. Working out is often thought of as something tough and intensified, which requires standing and moving for hours.
All this doesn't resonate with Bullworker Steel Bow's workout strategies. One can sit down at a place and can do sufficient strength, gaining exercise without moving a step.
That's amazing!
This feature will be loved even more by the people who are in the rehabilitation phase or suffering from joint pains.
Having this wonderful tool by your side, you open gateways to tonnes of bodybuilding activities. Such are:
Higher resistance levels that boost up your muscle size in lesser time
Customizable resistance levels to specific muscle targeting
Low impact training is safe and effective than lifting heavyweights
Bolster your biceps easily by pulling apart those cables
Target your triceps with tricep extension
Target your back with myriads of exercises doable with this tool
Multiple options and variations that aid in sculpting the chest
Best for lower body training – leg press, calf extension.
Build the abs of your choice and open out to numerous core exercises
No matter your fitness goals, this breakthrough product formulated by Bullworker is powerful enough to meet everyone's expectations with the greatest degree of customizability and comfort.
Check the price of the Bullworker SteelBow on Amazon
Bullworker Steel Bow Accessories
Steel Bow isn't a single investment, and you get excited and beneficial accessories along with it. These are:
Five interchangeable springs – red, black, white, gray, and yellow-colored springs, each one owns a specific range of resistance levels.
A workout manual that guides you to get started easily with the push and pull exercises. It contains high-yield sit-at-home workout methods.
The non-slip pad will be useful when you do pushing activity against the floor
Not to forget, Bullworker Steel Bow also comes with five monthly warranty that is again something trustworthy and impressive. Manufacturers also provide confidence-enriched purchases with a 90-day refund policy.
Worrying about the assembly part? Chill out because there's absolutely nothing to assemble with this. It comes in ready-to-use form. You just need to be ready to go with this.
What is the Difference Between Bullworker 36″ Classic Bow and Bullworker 20″ Steel Bow?
There are five major points of difference one can analyze by proper observation of the two Bullworker bows:
Size
Weight
Number of cables
Range of resistance
The number of exercises supported
Steel Bow is much similar to the Classic ancestor in terms of appearance and working principle. But some notable differences do exist between both of them.
The first and foremost difference we can readily observe is the size. Classic Bow is constructed with 36 inches of length and 4 lbs of weight, while Steel Bow is build to be 20 inches long and weighs 5 lbs.
Secondly, Bullworker Classic Bow is a barbell analog. It promotes a greater degree of movement with a better grip. On the other hand, Bullworker Steel Bow is the dumbbell analog.
Being smaller, it is an ideal choice in the category of portable and compact fitness equipment.
You will also notice that there are three cable handles on Classic Bow. But Steel Bow being minor in length, is integrated with only two cable handles.
Considering the size factor, Steel Bow puts a limit on the number of exercises you can perform with it. Likewise, Classic Bow enables performing a comparatively more number of exercises.
However, the thing that remains common in both Bullworker variants is the presence of 5 interchangeable springs and the ease of switching between resistance levels.
Comparison of the Spring Resistance—Steel Bow vs. Classic Bow
Both the models have customizable resistance with interchangeable springs. But there is a diversity in the range offered.
Steel bow comes in a range of 0-130 lbs resistance with five interchangeable springs. The distinct levels are:
0-35 lbs
0-55 lbs
0-80 lbs
0-100 lbs
0-130 lbs
Classic Bow has got a range of 0-160 lbs resistance. This also comes with five interchangeable springs. The distinct resistance levels are:
0-40 lbs
0-70 lbs
0-100 lbs
0-130 lbs
0-160 lbs
Classic Bow leads the comparison by imbibing 30 lbs of more resistance. But again, if we consider size, Steel Bow emerges as the one that rocks!
Pros
Durable and compact design that fits in little space, and one can carry it anytime, anywhere
Supports multiple exercises
It comes with a user guide and carrying case
Changeable resistance springs and resistance levels
Competitive warranty
Value for money
Cons
Restricts users from doing certain exercises due to small size
Too short for some people
Final Words
Bullworker Steel Bow is a one-stop solution for everyone, irrespective of the fitness goals. It worth your investment with amazing results.
Be it pumping up your biceps or toning your legs. Steel Bow isn't going to disappoint you.
We can say that Steel Bow is a smaller sibling of Classic Bow that, too, has inherited all the superior traits and carrying the same legacy forward.
The smarter, faster, and better way to gain strength is here. Witness the results three times faster than the other methods.
Trust your instinct and head on with the decision to bring this bonzer-packed small basket big blast fitness equipment to your home.
Check the price of the Bullworker SteelBow on Amazon
Read Also: