When you buy through links on this site, I may earn an affiliate commission at no extra cost to you. Learn more
The Horizon T303 is a versatile treadmill that can be utilized by aspiring fitness enthusiasts and professionals alike. The machine features are so well-rounded that professionals can amplify their challenges and be the best edition of themselves.
The outstanding comfort and convenience guaranteed by Horizon are unmatched. With great console controls and immaculate design, this treadmill is meant to make your jaws drop.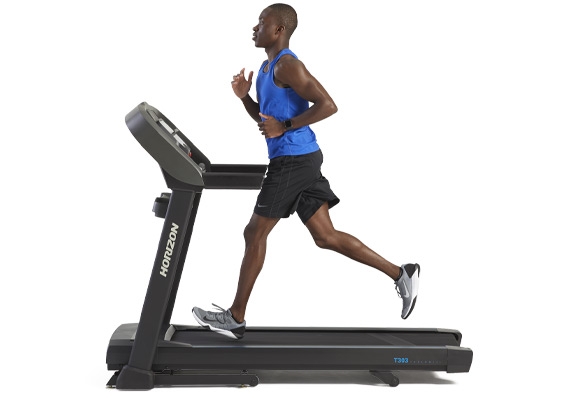 It does not make any noise so that you can have an intense workout without disturbing your family and your neighbors. It also gives you a workout routine to follow to focus on your routine and challenge yourself to only higher fitness levels.
The cushioning is also very safe for the human body and supports the body through all stride phases.
The preset workout programs can also be customized to focus on burning fat, climbing, distance, time, pulse, calorie burn, and the interval between exercises.
The data about all these workouts can also be seen on display, which is another piece of art with 3 LED windows and a backlit LED screen coupled with clear Bluetooth speakers to make your workout exciting and fun.
What I Like About Horizon T303 Treadmill
Large running deck: This beast has a wide running space, which is a standard 20" x 60", and it is enough for any runner to run with great comfort and effortlessness.
My First 5K workout program: The first 5K is a 9-week program built to help you run for 5K with a 30-minute workout every day, increasing as you keep running. This is one of the rarest treadmills to have the My First 5K program.
Quiet motor: The 3.0 CHP Motor on this machine is a very powerful one compared to most other ones out there in the market. But this motor is unique as it does not produce a lot of sounds and is pretty silent.
12% incline: The maximum 12% incline on this beast is also a great way to increase and challenge your output to burn more calories and improve your cardio
Cushioning: The cushioning is also a unique one as it is made of a thick silicone belt. The cushioning highlight is the 3-zone variable response cushioning, which is highly advanced and supports the body throughout the workout.
Good speed range: This treadmill's speed is 12mph at the maximum, which is a good speed for beginners and advanced runners.
Good warranty: The warranty on this machine is superb given the lifetime warranty on the motor, three years on parts in addition to another year on maintenance and labor.
What I Don't Like
The incline: The treadmills of this range and caliber have a 15% incline, which is pretty standard nowadays, and that is something that left us hoping for more.
No internet connectivity: There are no options to connect to the internet using this treadmill. No Wi-Fi, LAN, or other internet connections can be made.
Fewer workout programs: The number of workout programs that are preset or built-in to the machine is way less than we imagined. There are only 8 workout programs that could have been more.  
Low-technology touchscreens: This brand could have more standard technologies like touchscreen, one-touch buttons as in other treadmills at this particular price range
Check the price of Horizon T303 on Horizon Fitness.
Who Is It For?
This treadmill is perfectly built for you if you are looking to begin in their fitness conquest or even if you have been into the fitness world for some time but are now looking to amp it up.
Due to its great motor capacity and amazing speed, it becomes desirable for beginners, intermediates, and even if you are at a pretty advanced stage in fitness.
Its strong body makes the treadmill perfect for you if you are under the 325 lbs weight limit due to its strong and sturdy build.
It has a 12% incline, which is also challenging for you in your workout. The incline is provided to increase your resistance and cardio.
This treadmill is a perfect match for you, even if you are looking to have a treadmill that does not take up a lot of space as it can be folded with great ease and comfort.
Its great cushioning capabilities make it very comfortable for you if you are apprehensive about joint pains and their impact on your knees.
It can be used for rehabilitation purposes and can also be well matched for you if you are looking to lose weight on a budget with its amazing workout programs.
If you are a fitness enthusiast and are looking to improve your endurance and your cardio, you could do so through the preset workout programs on this treadmill from the comfort of your home.
Check the price of Horizon T303 on Horizon Fitness.
Horizon T303 vs. Sole F63

The Horizon T303 and the Sole F63 folding treadmill are not very different in terms of their features, but let's look at their similarities and subtle differences.
Both the machines have adopted some pretty standard similarities. Both treadmills have a 3.0 CHP motor, offering the same speed range of 0.5 to 12mph at a maximum, which is again a great speed for beginners and intermediates alike.
The two modernistic treadmills have the same deck area that is 20" x 60", which has become a standard for treadmills and is a good option for runners who require some room space while running on the treadmill comfortably.
The Horizon T303 and the Sole F63 have very compact and safe folding technology to save space in your room. This is excellent if you have a small room but still want to pursue your fitness goals and can afford to lose some space for some time.
The maximum user weight limit on both machines is 325 lbs, which could have been higher towards 375-400 lbs as it offers more flexibility for those in the higher weight categories.
They also have a similar warranty on the treadmills with a lifetime warranty on the motor, a 3-year warranty on parts, and a 1-year warranty on the labor. This warranty is a good deal for the user, which also talks about the treadmill's quality.
Now the subtle differences between both machines are a great deciding factor on which treadmill you should choose for your fitness endeavors.
The Sole F63 leads in terms of incline. It has a 3% advantage over the Horizon T303 with a maximum incline of 15%, except for any professional fitness enthusiast and a beginner working out from home.
The T303 and F63 have highly advanced cushioning on the very safe belt for trainers or fitness enthusiasts to work out on.
The T303 has the 3-Zone Variable Response Cushioning, which protects you throughout your strides on the treadmill. Simultaneously, the F63 is home to the CushionFlex technology, which is also a Phenolic Deck with shock absorption to absorb the deck's impact so that your body is safe from damage.
The F63 has 10 workout programs, while the T303 has only 8 workout programs, which could be more numerous to assist the fitness enthusiast.
Check the price of Horizon T303 on Horizon Fitness.
Check the price of Sole F63 Treadmill on Amazon.
Read Also: