When you buy through links on this site, I may earn an affiliate commission at no extra cost to you. Learn more
The Rogue RML-390C is a budget-friendly power rack with better upgrades, two variants, better price, great compatibility, muscular structure, etc. Also, if you are looking for a specific color scheme that matches the room, then you've got your eyes on the right power rack.
The Rogue RML-390C comes with great color variants such as Satin Clear, Gunmetal, Rogue Red, Bright Blue, Burnt Orange, Satin Black, and 5 others. Hence, you can show off a little with such a variant in the room.
Jumping on towards the features of this power rack, the rack comes in 2 variants, as mentioned earlier. The power rack is a bit heavy which weighs 265 lbs. The RML 390C uses 3×3" 11 gauge steel, and there's no doubt that this Rogue power rack is solid and powerful with aesthetics. The best part is that it is compatible with all the power rack attachments and accessories are given in the Rogue Monster Lite Series.
The measurements are as follows, the length is 36" or 30" (depends on the variant), the width is 49", and the height is around 90.3". The footprint is also good whether you want it to be in a gym or your house. It is 34" or 40"x53".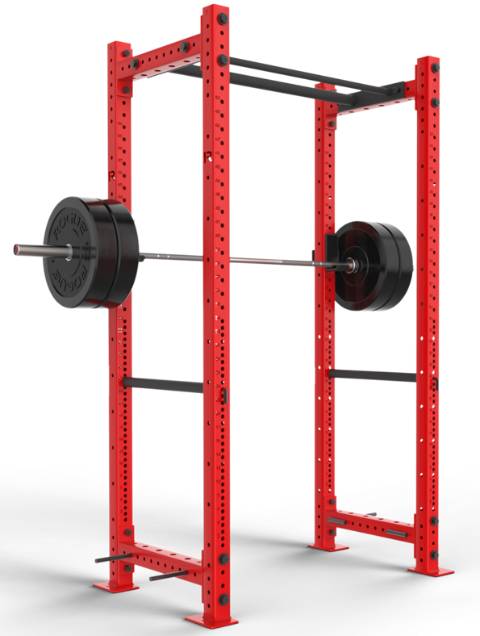 What I Like About  
Westside spacing: having such spacing in a power rack is a boon. The spacing will facilitate setting up bands that will be useful during squats and benches.
Colour variants: there are 11 color variants provided by Rogue Fitness. Each and everyone is better at its place. Choose one and make your room even better.
Compatibility: you would be amazed by knowing that the equipment and accessories in the Monster Lite Series are compatible with the RML 390C.
Material: The power rack uses 3×3" 11 gauge steel for the manufacturing. The strength is incomparable and is highly durable.
Variants: if you don't have any budget issues, you can switch over to the power rack's bigger variant.
Accessories: The RML 390C power rack comes with a 43" fat/skinny pull-up bar, band pegs, pin, and pipes safeties, and J-Cups.
What I Don't Like
This power rack cannot be folded up to save space.
There are still some more racks that can beat this power rack if you can expand your budget.
Check the Price of Rogue RML-390C on Rogue Fitness.
Alternatives to the RML-390C
There are two alternatives to this Power Rack:
RM4 Fortis: if you don't have any problem with only one color rather better up-gradation, then consider this as your go-to equipment. Rogue invests more time in adding something new to this as it belongs to The Monster Series.
Rogue RML-490: A better version of its predecessor. If you're not interested in the color variants, but you want the Westside holes, then this is the one go for.
Rogue R-3 Power Rack: Rogue R-3 power rack is made from 2" x 3" 11-gauge steel, which is heavy-duty enough to support heavy weight training but less expensive than Rogue-390C. If you put cost over aesthetics, the R-3 power rack is the best choice.
The Verdict: Who Is This Power Rack For?
If you are the one who wants a matching power rack with the same efficiency, then this is the perfect one for you. The power rack is reliable and comes with decent attachments such as the J-Cups, band pegs, and pin and pipes safeties. Better compatibility with the Monster Lite Series makes it great already.
Check the Price of Rogue RML-390C on Rogue Fitness.
Rogue RML-390C vs. RML-490C
| Comparison | Rogue RML-390C | Rogue RML-490C |
| --- | --- | --- |
| My Rating | 4.7 | 4.8 |
| Image | | |
| Made in USA? | Yes | Yes |
| Product Weight | 265LB | 336LB |
| Length | 30" or 36" | 49" |
| Width | 49" | 49" |
| Height | 90.375" | 90.375" |
| Other Product Specs | Includes (1) pair of Monster Lite Jcups, (1) Pin/Pipe Safety System, and (4) Band Pegs | Includes (1) Monster Lite Jcup Pair and (4) Band Pegs |
| Steel Notes | 3x3" 11 Gauge Steel | 3x3" 11-gauge steel. Westside hole spacing through bench/squat area, 2" elsewhere. |
| Foot Print | 34" or 40" x 53" | 53" x 53" |
| Monster Lite Compatible | Yes | Yes |
| Price | View on Rogue Fitness | View on Rogue Fitness |
Read Also: