When you buy through links on this site, I may earn an affiliate commission at no extra cost to you. Learn more
Buying a new treadmill ensures doorstep delivery in most cases, or the delivery person brings it to your room too, where the machine should be installed.
If you are relocating, the big question now would be to find the cheapest way to transport the treadmill.
Most people think about using their car for transportation because this is the cheapest way to move a treadmill. Otherwise, you may need to pay movers to let them move your treadmill. It's quite expensive.
But the lingering question is whether or not the treadmill will fit into the vehicle.
Will a treadmill fit in your car? To know this, you should take measurements of your car as well as the treadmill. Folding treadmills occupy less space, and you need to bother only about the length of the treadmill, while a non-folding treadmill needs to measures more. Also, the treadmill weight and your car's weight capacity should be considered.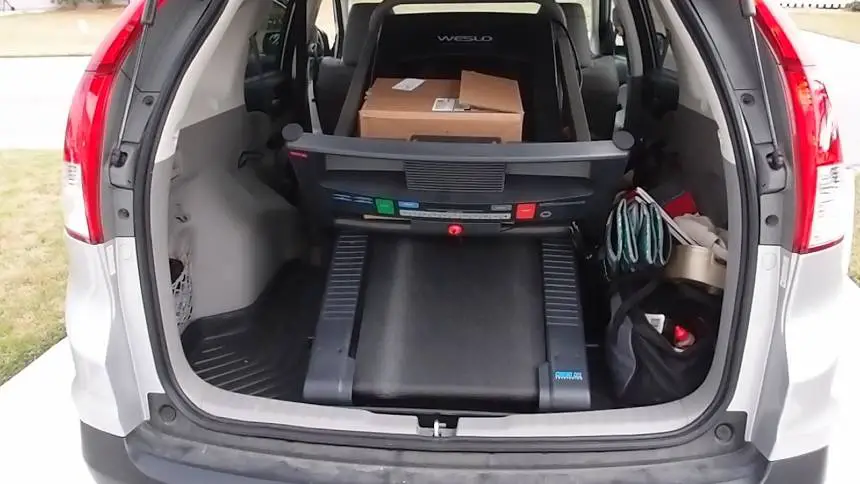 How Much a Treadmill Weight on Average?
Standard motorized treadmills weigh between 200 to 250 pounds. Most high-end electric treadmills for home use weigh over 300 lbs. Commercial motorized treadmills will weigh, reaching 400 pounds. Manual treadmills are lighter, but this really depends on the brand and model. Some manual treadmills are even heavier than electric treadmills. 
If you own a lightweight manual treadmill, the only concern is if the size fits well in your car. As I knew, most manual treadmills are foldable. So it is pretty easy to put it in your car.
But if you have a heavy motorized treadmill in your home, both treadmill weight and car capacity should be considered.
Is mechanics your forte or passion? If so, you could even dismantle the entire treadmill, pack it in the car, transport it, and finally reassemble it later. Your car could be of use if the car seats could be folded to make more space for the treadmill.
How Much Weight Can a Car Carry?
Generally speaking, a car can carry about 850 pounds. But an SUV can carry about 1100 pounds. A jeep can carry 2,000 pounds or 3,500 pounds, depending on the configuration. The weight capacity of a Minivan is about 1300 pounds.
Minus your own weight, most cars can carry one treadmill.
Summary
If you find that your car doesn't fit the treadmill, you could always use a transportation van to do the job.
If your car can do the job, make sure that you have at least two people to lift the machine during transportation. A manual could also come in handy while looking for exact measurements of the equipment while planning the entire transportation process.
Neither the car nor your treadmill is cheap enough that you can afford any scratches or damages to either. It is necessary to plan judicially and execute it rightly to transport the treadmill intact.
Read Also: