When you buy through links on this site, I may earn an affiliate commission at no extra cost to you. Learn more
The Rogue RML-690C power rack is a versatile and highly customizable piece of equipment most suitable for strength training.
The RML-690C power rack is a hybrid design taken from the R-6 Power Rack and the RM-6 Monster Rack. But as the unit has optimal pricing, we cannot expect the same variety in terms of attachments and upgrades as available in the RM-6 model.
Still, it's amazing to see the concrete versatility and customizing feature provided by the Rogue RML-690C model. The unit is available in 10 different colors (semi-gloss powder-coat finish) and has Westside hole spacing like the ones available in many high-end models.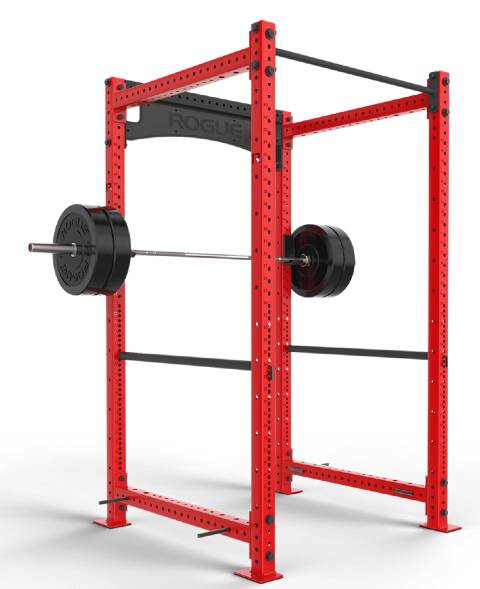 This Rogue power rack is one of the best squat racks that come with pull-up bars (43-inch single skinny pull-up bar) and other accessories such as a solid pair of J-Cups, four-pack band pegs, eight bumper plate storage posts, and pin safeties.
Space-wise, I wouldn't mention that it is compact and if you suffer from a lack of space, think twice before buying the equipment as it occupies a total footprint of 80 inches by 53 inches.
The unit needn't be bolted to the floor and has a good storage capacity such that many of you can workout simultaneously.
Safety-wise, Rogue has taken ample care to provide us with good safety features such that you stay confident using heavier weights even in the absence of a human spotter.
Some of the safety options provided include mounting bolts, connecting bars, J-Cups, standard cross braces, and more.
But this Rogue power rack occupies much floor space for most of us. If you don't mind spending money buying the product or procuring upgrades, the Rogue RML 690C power rack helps your muscles strengthen and grow at a solid pace.
Rogue's uncompromised frame and construction quality and their range of custom-color finishes promise a great experience to any of you making use of the product.
Check the price of Rogue RML-690C on Rogue Fitness
What I Like About ROGUE RML-690C POWER RACK
Some of the predominant advantages that we reap while buying the RML-690C power rack are:
Good value for money
Great storage ability. Multiple individuals can train simultaneously, make use of the storage options, and hold plates.
Available in 10 different colors—choose your preferred color based on your home gym setup.
One of the most durable and highly customizable power racks available
It comes with a single pull-up bar
Powder-coated finish guarantees against corrosion and scratches
Widespread accessibility by individuals of different heights
What I Don't Like
Includes a single pull-up bar
The piece of equipment is big and not quite suitable for smaller homes
Upright's height is unsuitable with the low ceiling height. If your room ceilings height is under 8 feet, this isn't the rack for you. However, you can have other choices. Find short power racks for low ceilings.
It occupies much space and works better when you have a lifting experience
Check the price of Rogue RML-690C on Rogue Fitness
Frame and Construction
The RML-690C power rack is a sturdy piece of equipment made of high-quality 3 by 3-inch steel framing and provided with laser-cut holes to accommodate attachments and J-Cups.
The J-Cups are thick, come with a big surface area, and consist of a plastic plating, which keeps the finish intact. These cups are compatible with all other racks in the Monster Lite Series.
The unit offers the possibility of bolting it to the floor by securing it tightly and rigidly using solid anchors. You could also mount it to the floor using the Rogue Monster Lite Wall Mount kit.
You can choose from 10 multiple color options available depending on your home setup.
Don't worry about scratches or marks, as a semi-gloss powder coating provides ideal protection to your power rack. Still, the natural marks (a result of fabrication) on the steel remain significant as the unit is transparent.
The West Side Hole Pattern, a spacing that's standard in high-end bars, helps you enjoy an extensive range of motion without injuring yourself. The RML690C model has a 1-inch spacing up to the bench, which then becomes a 2-inch spacing upward from there.
The presence of mounting holes on the uprights makes the power rack compatible with various Rogue attachments and upgrades, bringing versatility to this piece of home gym equipment.
The standard offering is a 90-inch upright (accessible by all individuals) height, but you have to customize it or match it with other accessories.
Durability
The bar is made using 3 by 3-inch steel throughout at the Rogue factory, and hence, you can be assured of maximum durability. Coming to the holes and uprights, each of them is laser-cut and rightly spaced, thereby assuring you top-class safety features.
Besides the main parts, even the Rogue nameplate (optional) is laser-cut steel, highly customizable to match the frame's color. Having a Rogue power rack in your house is a pride after all!
The unit is stylish and transparent, and you should wipe it once a week using warm water, soap, and a soft cloth. Don't worry about corrosion or scratches during this process, as the unit has a transparent protective finish.
Besides the unit, any of Rogue's accessories, including barbells and other attachments, guarantee durability and top-most quality.
Safety and Sturdiness
The power rack is from Rogue, of the finest producers of fitness equipment worldwide, and the manufacturer has done a commendable job in assuring the utmost safety of the equipment.
There are a couple of safety features offered by Rogue that takes care of your safety and that of the unit. You are not at the gym where a human spotter comes to your rescue when it's time for your workout.
Rogue has matched the spotter's absence by enhancing safety features so that you can perform heavyweight lifts without injuring yourself.
The company has provided solid J-Cups, 1-inch mounting bolts, pull up and connecting bars made of steel, standard cross braces, and high-quality uprights.
Besides these, every other safety feature elaborated below is available at an additional cost.
If you are an individual who has purchased the power rack for serious weightlifting and unassisted barbell squats, I strongly recommend that you buy an extra pair of safety spotter arms—this comes to your rescue in place of a human spotter.
The spotter's arms attach to the uprights at floor level, and on seeing, you realize that they are built to save you and the floor from barbells loaded with plates of any weight.
Hence, don't hesitate to increase the squat weight as you gain confidence and strength.
The pin and pin safeties present are made from solid steel with maximum smoothness to guarantee easy accessibility.
A special mention here that the Rogue 690C is compatible with Monster series pin and pipes only and this rule goes for other upgrades and attachments.
There are also belts, straps, and strong bands that keep the barbell well away from danger.
Upgradable Accessories
Some of us are content with the set of features and accessories provided by the manufacturer, but for some others, the list of upgrades and additional accessories that are possible exist as the main luring point for buying the piece of equipment.
You get dip stations, cable rigs, extra pull-up bars, different Olympic bars, squat belt platforms, and additional band, plate, or chain storage.
It is also possible to hang gymnastic rings from the uprights to practice additional movements. Procure extra Rogue plates by investing a little extra money apart from the ones already available to expand your extensive workout possibilities.
Though the rack is highly customizable as you could match it with other Monster Lite Rogue products, you can sadly use the 690C model with the Rhino Drop-in, which could be a big disadvantage for some of you.
Assembly
Assembly is a tricky process while fitting most home gym equipment, especially huge and heavy-weighted ones. Not all of us love to explore stuff, and we find it easier when we can straightway start working out on the power rack.
As a matter of fact, all of Rogue's products have a steep learning curve that's not restricted to usage but extends to the product's installation as well.
Be happy as the Rogue power racks are simple to bolt together, and the company even extends help by sending an expert if you want help with installing the unit.
Mind you, the process is not easy or quick, though, and the assembly gets more complex if you want to connect the rack to the wall.
Once you are set and ready to exercise, you start to learn all the exercising options given that you are patient. Some of you might get the hang of using the power rack straight away, while it might take some time for some others.
Don't panic but be confident as, in due course, you will become comfortable using the power rack. In due course, you spend minimal time between sets and gain maximum exercising benefits by squeezing in as many variations as possible.
Check the price of Rogue RML-690C on Rogue Fitness
Find Other Rogue Power Rack Below: