While ellipticals do make an excellent home gym choice, it is rather sad to accept that not all our homes are built to house an elliptical in our little spaces or rather low ceilings.
It becomes more challenging when you dedicate the basement for an elliptical as its ceiling is much lower, and an elliptical needs much height due to the range of movement involved while working out.
Does that mean small and low ceilings homes cannot make way for an elliptical? That is far away from the truth. We will show you how to determine if an elliptical fit well in your low ceilings room.
In a hurry? Or just want to go through our top picks? Here you go. (Sort by step-up height. Don't know what is it? Maybe you should learn how to choose the best ellipticals for low ceilings first.)
You can also see the overview, pros & cons below. 
What to Look for Before Buying the Best Ellipticals for Low Ceilings?
You know some of the best ellipticals, but you worry about your choice as your building is a low ceiling one.
So, how do you meet your low ceiling requirement without compromising on quality?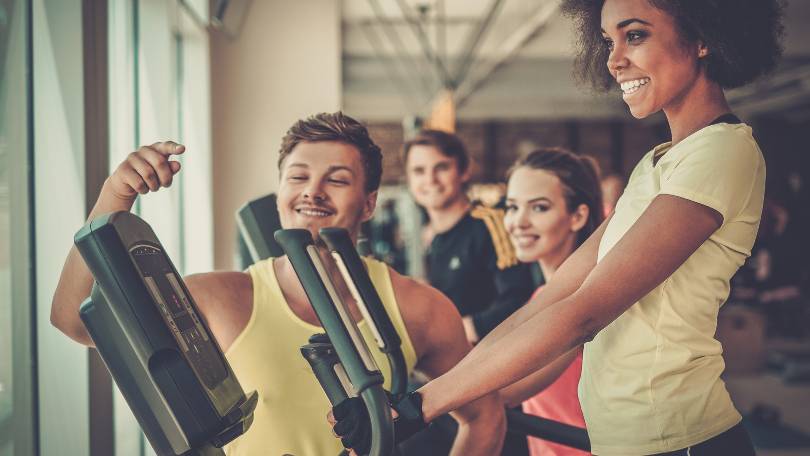 You just need to do a simple calculation.
#1. Measure Your Ceilings Height
The average height of the ceilings is 8 feet. But for those whose ceiling height is above 9 feet, it is good news as any elliptical would be good. But if it is below 9 feet, then it's wise to ensure that the chosen elliptical fits within the right range.
To do this, just do some simple measurements.
#2. Find Out the Height of the Tallest User
You don't want to hit the ceiling while exercising, so the first thing you need to know is the height of the tallest user of the machine.
#3. Know the Step-up Height of the Elliptical
Step-up height is a spec that you should pay attention to. You might want to know what is step-up height. Well, it's the maximum height from the floor attained by the users when they are at the elliptical's peak stride length.
It would be listed by the manufactures but not in the most case. And it's difficult to find out a precise step-up height, but you can also search for online reviews provided by a verified buyer to get a more reliable answer. We have done this for you.
Most of the ellipticals have a step-up height between 12 inches to 14 inches, which varies from brands. But if you have no idea which to choose, then we could tell you that Horizon and Nordictrack have the lowest step-up height, among the brands introduced in the market. But also, varies from the models.
#4. Do a Simple Calculation and Make Sure Your Room Has Enough Space
If you don't want your head knock on the ceilings, you should make sure there are at least 6 inches spaces between your head and the ceilings. So the elliptical will fit well in your room if the following inequality is satisfied.
Ceilings height – (Step-up height + Tallest user height + 6 inches ) >=0
Other Consideration
Stride Length
This is an integral factor while choosing a unit as it determines workout quality. An 18-inch stride length is normal, but if you are over 6 ft, it is recommended to go for a 20-21 inch length. Most high-quality machines offer a minimum stride length of 20 inches.
Top 5 Best Ellipticals for Low Ceilings
Given below are the five best ellipticals for low ceilings.
Step-up Height: 10 inches which are extremely reasonable
The main catch here which attracts potential buyers is the elliptical frame that could be folded easily and stored away.
Also, it's one of the easiest ellipticals to assemble with only a 3-step process, after which the user can quickly step on it and start working out.
This makes it a perfect pick for small spaces and low ceiling heights, as it requires only a 10-inch elevation at the peak of its stride.
The machine offers a decent stride length of 20 inches, and the flywheel weighs around 18 lbs bearing a weight capacity of 300 pounds, making it an average contender in its category.
Pros
Easy to fold and store
Simple assembly
Apt for low-ceiling spaces with a step-on height of 10 inches
Long stride length and comfortable to use
Cons
No inclination possible
Warranty
Not a great money saver
Released by a renowned brand that has established its forte in exercise equipment, the E614 is an ideal choice for those who are looking for a durable, comfortable, and fitness-oriented exercising experience.
The machine offers 20 different resistance levels, six different incline positions, 22 different workout programs, and a 20-inch stride length enabling users to push themselves and achieve excellence in exercising.
It can bear up to 300 pounds of maximum weight and has large footpads with comfortable cushioning that adds no stress while pedaling.
The machine has in-built speakers that provide good sound quality, a charging unit for your electronic gadget, a water bottle holder, and a cooling fan.
The dual display LCD screen can help you with information such as time, distance, rpm, heart rate, and calories. See the full review here.
Pros
10-year warranty on frame
Durable and stable with high-quality materials used
Intense workout options aiding any type of user to benefit
Dual display LCD screen
Cons
Difficult assembly
Can bear up to 300 pounds of weight only
Six inclination levels must be manually adjusted
Step-Up Height: 12-14 inches
There are two X class 710 products—a training bike and an elliptical with the number 2366 denoting the elliptical and the number 2252 denoting the bike.
The X class elliptical trainer is custom-made for home training purposes with a sturdy frame made of steel and an extra-heavy flywheel that stands out from other ellipticals in this category.
The elliptical comes with 24 different levels of magnetic resistance with no inclination options and a stride length of 20 inches.
This equipment's console is well designed with a touch screen display that helps in choosing between 20 different preset workout programs.
And users (supports up to 4 user profiles) can even customize any two workout programs as per their wish.
The screen displays information such as speed, calories burned, time, etc. The machine's Bluetooth functionality must be appreciated as it is compatible with android, iOS, and many fitness apps.
You can also enhance your workout experience by listening to clear music coming from the unit's built-in speakers.
The elliptical supports up to 300 pounds of user weight and has most of its parts pre-assembled, making it a friendly device to use.
Pros
Great levels of resistance
Heavy flywheels that ensure high-end performance
Excellent design, outstanding materials and overall a great machine to workout
Bluetooth connectivity
First-rate sound system
Warranty
Easy to assemble
Cons
Absence of inclination options
LCD needs good lighting to offer good visibility
Step-up Height: The pedal or step-up height of the elliptical is 14 inches showing that it's got the lowest possible measure among all ellipticals.
Having the privilege of being called a luxury elliptical machine with its high-quality frame and features, this is a machine that's designed to deliver durability, comfort, and maximum exercising benefits.
With an ability to bear up to 375 pounds of weight, this machine is sturdy seated upon four rollers yet functions smoothly (flywheel is 25 lbs) and quietly.
The elliptical features a power incline up to 30 degrees, which increases your stride height, and if you wish to buy this, ensure that you have a minimum of 8 ft ceiling height.
And being a top-notch elliptical, its stride length is great, offering 20 inches while some report up to 22 inches too.
As you sweat out to become fit/lose weight, the machine motivates you by showing your efforts in the form of a 7.5 inch LCD screen with various information such as calories burned, time, speed, and more.
Pros
Lifetime frame warranty, 5-year warranty on parts and two years on labor
Sturdy, durable, made of high-grade materials and smooth functioning
Huge pedal size
Built-in speakers, cooling fan and water bottle holder
Ten different workout programs and two user profiles possible
Cons
Expensive
Incompatible with Bluetooth
Step-Up Height: 12-14 inches
It's small yet sturdy, and it's suitable for low-ceiling spaces yet comes with excellent frame construction and design.
It gets a five-star rating from many for its easy calorie-burning spree.
Those who suffer from extreme joint pain and knee injuries prefer to workout on a Bowflex M7 as this is the best alternative to treadmill and ellipticals, too, as it facilitates easy movement of hands and legs without impacting the joints using minimal effort.
The machine comes with 20 different resistance levels, 11 different programs, and four user profiles, which makes it a top pick for any type of user.
It attracts buyers with its wireless heart rate monitoring option with a chest strap that's included and is Bluetooth compatible, which means that you can listen to music or sync with the Bowflex Fitness App provided and have a great workout experience.
Pros
Helps to burn more calories than what's possible on a treadmill or elliptical
20 resistance levels and 11 preset programs
Warranty
Sturdy and durable with stainless steel built
No impact on joints
Advantages of Working Out on an Elliptical in Your Home
It's good that you have decided to buy an elliptical for your home.
Still, before purchasing a piece of equipment, it is better to reassure yourself that it's the right decision, which is possible by understanding its advantages.
Minimal Impact: Health experts and physiotherapists prescribe working out on an elliptical even for those with knee injuries and older people as well as this equipment has minimal or zero impact on your knees and joints, unlike certain other cardio machines such as the treadmill.
Walking/running on a treadmill does lead to joint problems over time, but if you want a calorie-burning exercise format that doesn't cause injury to your body, better choose the elliptical.
Versatile for Full Body Workout: Some exercises machines are great for upper body and some others for the lower body, but if you are looking for a total body workout using one equipment, then it's none other than the elliptical.
The moving handlebars take care of your arms and shoulder muscles, the pedals ensure workout to your thighs, legs, hips, belly, and lower body, and the bi-directional pedaling option helps you focus on your preferred leg muscles.
These machines are versatile because it lets the user adjust speed and inclination depending on his/her training level.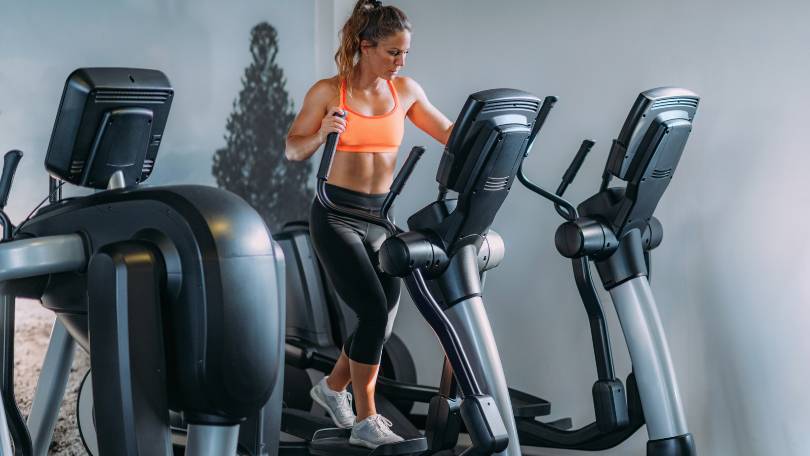 Simple to Use: Working out on an elliptical is rather easy and simple as all you have to do is to step onto it, press a few buttons, and start working out.
Though you might not get the same output as working out in a treadmill, it boosts your balance, coordination, and bone strength.
At the same time, you can simultaneously enjoy a movie on the television or even listen to music while working out.
It refreshes your mind and makes you feel that exercising is a simple chore.
Conclusion
The elliptical is an apt choice for a home gym, but it also requires sufficient space and ceiling height—at least look out for 6 inches of clearance between your head and the ceiling to avoid a concussion.
Your elliptical might fit into your small room, but if you don't enjoy the exercising experience, then it's not worth the time and effort.
If your room has a low ceiling height, choose a model that has low step-up height but doesn't compromise on other features such as stride length, resistance levels, flywheel design and sturdiness of the device.
Choose the shortest step-up length if your ceiling height is low and go for the highest-quality equipment and stride length if other factors match.
On the whole, buy an elliptical that satisfies your height specifications and your design requirements for a pleasurable exercising experience.