When you buy through links on this site, I may earn an affiliate commission at no extra cost to you. Learn more
The treadmill is a piece of easy-to-use equipment that promises rigorous, full-body workouts and effective weight loss. Running on a treadmill is an excellent choice when the harsh weather doesn't allow you to go to the gym or run outside.
However, treadmill running workouts might be monotonous and boring. That's why people prefer bringing entertainment into their training time.
Are you looking for a treadmill with a large TV that allows you to surf the Internet to stream movies on Netflix? Although using a treadmill with a TV might not directly invoke an increase in fitness levels, it complements achieving your exercise-related goals and boost your motivation and mood. Moreover, bring more fun to your exercises.
But a treadmill with a TV screen is fairly expensive due to some fancy features that you don't need. So it's a bit tricky to find the best-value treadmill that also provides you with a safe, enjoyable, and convenient cardio workout for improving your strength and stamina.
Below we have introduced various treadmills with large TVs for your reference, taking into account key factors such as speed, incline, weight capacity, cushioning, and more. And for sure, many people love to run and can create a running group that uses the treadmill online to clock in and set personalized running medal for those who complete their running goals. This motivates everyone to run hard. If you're using a treadmill at the gym, custom running medals can also motivate members to get active.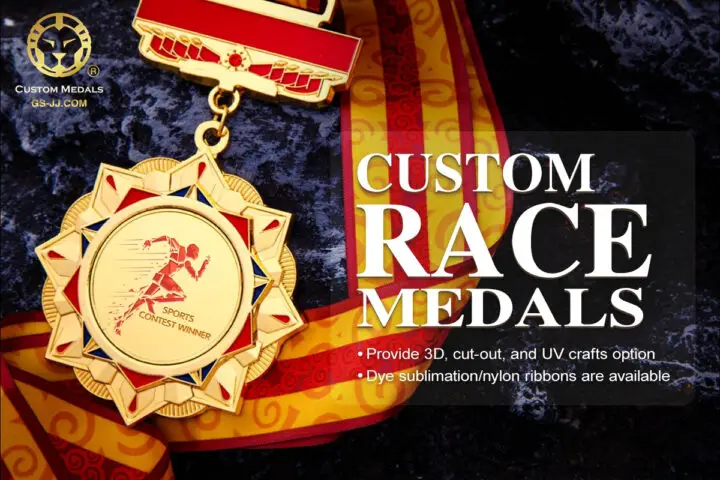 Our Top Picks:
Product
Features
Price
Rating

Highly-responsive QuickDial™ controls help you keep pace with the streaming apps
Zwift-certificated treadmill
Bluetooth connectivity and HR strap
Durable motor has speed and incline changes, perfect for interval training
60" 3-Zone cushioned deck for comfortable footfalls

9.4

Adjustable HD touchscreen to stream your favorite shows. (Netflix, Hulu, HBO, etc.)
400 pounds high weight capacity
22" immersive console
0 – 12 mph
Compatible with Zwift

9.9

22" HD Interactive Touchscreen Display
-3 to 15% Digital Quick Incline control
300-pound user capacity
30-Day iFIT Family Membership Included

9.6
For those who are in a hurry and want to see my top 10 picks of the best treadmills with a television screen, here you go:
See the overview, pros & cons below.
Why Get a Treadmill with a TV Screen and Netflix?
The treadmill is a piece of exercise equipment that primarily helps us stay fit, healthy, and maintain an active lifestyle.
The combination of a TV and a treadmill is a superb one that can do wonders for your body:
A treadmill is a piece of integral cardiovascular equipment that offers you ample benefits when you walk/run/jog on it. Using your treadmill with TV regularly helps motivate yourself to exercise daily without giving lame excuses or missing out quoting, thus improving your blood circulation, decreasing BP levels, and making your heart stronger at ease.
Truthfully, many of us detest working out every day as all you do is walk, run, or jog on the exercise equipment or lift weights. But, if the same equipment (in our case, the treadmill) will surprise us with entertainment benefits as well, who wouldn't want to work out daily? Use the TV monitor on the treadmill to listen to peppy music or watch your favorite series. The presence of a TV makes your exercise time fly away instantly, and you look forward to your next workout with josh and enthusiasm.
Moreover, you can connect your treadmill with a fitness App mix-up running with some serious fun elements in the form of video games. And Zwift is such an App that provides these possibilities.
Top 10 Treadmills with Built-in TV Screen for Streaming
Listed below are the best treadmills with TV options that enhance your overall exercise experience taking it to the next level.
A model manufactured by one of the well-known brands in the fitness industry, NordicTrack, this 300 lbs weight capacity treadmill meets the commercial expectations setting the standard pretty high for other treadmills in this category.
You will be amazed by the motor power offered by NordicTrack Commercial Treadmill–with a 4.25 CHP motor, you can be guaranteed excellent machine performance.
The maker has cautiously designed the equipment: flex cushioning to minimize the impact on joints when you run/jog/walk fast using dampeners or bringing about a real road running path.
The incline is a must when you use treadmills, and this model provides you with one-touch incline and decline options that make it easy for you to work out or change programs on the tv screen without hindrance.
The company provides you with a one-year iFit membership, which could be used fully as the running surface can be adjusted from -3 to 15% slope. This helps you enjoy real-time simulations.
Whether you want to run or do interval training, this solid treadmill should be your default choice, as you can go up to a maximum speed of 12 mph on the machine. With a large TV screen and Zwift compatibility, you can make running more fun.
Pros
40 different inbuilt workout programs provided
Helps achieve weight loss, muscle gain, or strength using the present programs
Bluetooth connectivity
Provisioning for keeping your water bottle
One-touch incline/decline movements
Cons
Inbuilt programs take time to boot up
The assembly is a bit tricky as the treadmill is heavy and needs at least two people to put it together
Are you suffering from the monotony of your daily exercise ritual? Switch over to the NordicTrack T 8.5S treadmill, which comes with a 10" HD Interactive Touchscreen display. NordicTrack T 8.5 S Treadmill has an overall height of 59" (149.9 cm), a width of 35.5" (90.2 cm), and a length of 78.5" (199.4 cm)
With this compact, low-profile treadmill, you can watch your favorite movies, learn from workout videos, and even stay updated with daily happenings using a picture-perfect TV.
The treadmill has a 3.5 CHP DurX Commercial Plus motor (self-cooling DURX motor, which has minimal belt vibrations) that ensures the machine's optimal functioning.
The speed of the NordicTrack 8.5S treadmill can reach up to 12 mph. You might want to run, jog, or walk on the treadmill, and I assure you that it is possible to do any of this as the belt size is pretty large.
Make use of the 0-12% incline possibility to keep yourself challenged and reap benefits from the FlexSelect cushioning that helps you choose various cushion levels.
If you love running on the roads, this low-impact treadmill should be a blessing as it mimics real-time road running impact to give you a road-like feel.
Pros
Built-in auxiliary port helps you connect your headphones
Accessories such as 2-inch speakers and cup holders included
The running belt's size is  20" x 60"
iFit enabled
Smart motor functioning enables endurance, speed, and interval training
Cons
The weight capacity is 300 lbs only, which might be not enough for heavy people trying to walk on a max incline and run at a top speed
If working out on the treadmill is discouraging you, all you need is a NordicTrack T 6.5S with a TV screen. This treadmill will take your workout to the next level with its considerable decline and inclination characteristics.
This treadmill for Netflix has a 10 MPH OneTouch inclination speed adjustment, as well as iFIT technology, which allows it to automatically modify your treadmill via Bluetooth connectivity.
This treadmill has a powerful SMART-Response Engine with auto-cooling technology for optimum speed, intensity, and muscular endurance training; the 2055 rubber belt provides enough leg and elbow space while running to support all types of physical exercise, from intense workouts to high endurance workouts.
With the aid of our FlexSelect cushioning, you can activate shock absorbers to reduce the impact on your joints or simulate a real jogging sensation in only one spin.
A free iFIT membership comes with the treadmill, allowing you to view Daily Workout sessions, Live Lessons, and Global Workouts. To get the most out of your exercise, the iFIT Trainer will adjust your pace, decline, and inclination.
Join your favorite iFIT Trainers as they take you through incredible fitness videos from all over the world.
Pros
Speed control technology allows you to change speed smoothly
One-touch incline system for easy incline change
FlexSelect cushioning system for low-impact running
Cons
The running belt might be smaller for extremely tall people
Bowflex 22 treadmill is a heavy-duty treadmill can set you back a lot of money. I never imagined myself with a tank in my spare room. The Bowflex Treadmill 22 is a true giant, as large and strong (if not more so) as anything you'd find at your local gym.
Because it weights 336 pounds, take your time determining where to put it because once it's there, it's there for good.  This heaviness correlates to sturdiness and long-term use.
There's no doubt that the Treadmill 22 could withstand serious training for an extended period of time. The user weight limit is 400 pounds, which is on the higher end of the scale. The NordicTrack Commercial 1750, like the Peloton Tread has a top weight of only 300 pounds.
The Bowflex's running surface measures 22 inches broad by 60 inches long, making it suitable for almost everyone.
The Bowflex has the appearance of a conventional high-end treadmill, with a sleek black matte finish with silver and red accents. The enormous 22-inch HD touchscreen is really rsticks out. It's easy to follow along with lectures, go for picturesque walks, and even watch Netflix on the brilliant screen.
The Bowflex Treadmill 22 also has extended grips with heart rate sensors, a media rack that can accommodate your phone or tablet, a USB port, as well as the standard cup holders and safety key. You can modify your pace without touching the screen by using the speed and inclination settings on the grips and side arms.
Pros
Wide and long tread belt for tall and big people
400 pounds high user weight capacity
Enjoy a 22-inch HD TV for Netflix, Hulu, and Disney Plus streaming
Cons
The treadmill weighs around 330 pounds
Expensive
The space-saving design of the ProForm Performance 600i makes it simple to install a treadmill in your house. The EasyLift assist makes retracting the deck and putting it out of the way a breeze.
This TV treadmill has a 10-inch high-contrast monitor and an iPad-compatible tablet mount. The treadmill includes a 2.5 CHP engine and an 1855-inch running belt.
The treadmill's size and form allow it to manage both vigorous running and substantial steps. Thus it will fit everyone in your family or, if used in a gymnasium, no one will complain about the small playing field.
ProShox cushioning is standard on the ProForm Power 600i, which has a peak speed of 10 MPH. This means that whether you're jogging, running, or sprinting furiously, every step you take will be softer.
By decreasing the impact on the knees and joints, the Proshox cushioning ensures a comfortable and smooth ride.
Pros
Strong and durable frame and construction
Foldable and space-saving
2.5 CHP motor and 10 mph max speed
Wanting to provide you with a piece of commercial-quality gym equipment, the Proform company has come up with a premium-quality treadmill that's priced affordably.
You can decide to work out using any of the 32 inbuilt workout programs and follow up on your performance by viewing different metrics such as distance covered, heart rate, speed, and calories burned using the 10" Smart HD Touchscreen display.
Besides this, you can also measure your heartbeat pulse using the EKG grip available in the handles.
Though the Proform Pro 5000 treadmill's belt dimensions are not as commendable, the design is great, giving you the required elbow room and facility for running/jogging without any hiccups to it.
The 3.75 CHP motor power and the maximum speed of 12 MPH help you run/jog intensely on the machine without problems.
Proform Pro 5000 treadmill has a digital quick incline control from -3 to 15%. Change your speed and incline/decline movements based on your workout program choice.
Though the treadmill has a built-in TV, it occupies a small footprint making it suitable even for those homes that suffer from space crunch.
The iFit compatibility and the TV screen keep you entertained, taking you through virtual tours, thereby enhancing your overall exercise experience.
Pros
ProShox cushioning makes your running session more comfortable
The commercial-grade motor ensures quiet functioning
Easy to store
iFit compatible
Maximum user weight up to 325 pounds
Cons
The customer service could be better
Get trained exclusively by reputed fitness coaches, access professional workout programs, and enjoy challenging your friends using the iFit coach membership that keeps your fitness routine interesting.
The HD smart touchscreen of the Proform PRO 9000 treadmill helps you regulate your performance by looking at various stats such as speed, distance, calories burned, and more.
The PRO 9000 model comes with a 4.25 CHP motor that's appreciable for a piece of equipment that comes with a 10 inches full-color touchscreen. Such high-end motor capacity keeps you going without interruptions when you work out intensely or run for a few extra minutes.
You could make this model a luxury-end product by adding Proshox cushioning and increasing the running track dimensions.
Switch between inclination levels (from 3-15%) and exercise at any speed up to 12 MPH reaping benefits by using its 34 inbuilt training programs.
Pros
Mimics real-time outdoor training experience
Foldable and portable
Excellent motor functionality
Accessories include a 3-inch speaker and an auxiliary port
10-inch full-color touchscreen
Cons
Console reboots sometimes
If the large display is your preference, don't miss out on the FreeMotion treadmill as it comes with a 15-inch high definition TV besides functioning well.
You might weigh as much as 400 pounds but never cease to think twice before buying this model as the machine withstands up to 400 pounds of user weight.
Watch Netflix, enjoy videos, and experience exhilarating simulations using the iFit membership, which is more valuable to the TV present in the equipment.
Don't hesitate to work out for extended hours or even worry about taking a break between hectic workout sessions as the machine comes with a 4.25 CHP motor that's as good as using for commercial purposes.
The FreeMotion treadmill is ideal for any trainer, beginner, intermediate, or advanced, as it has a maximum speed of 12 mph. You also get to use the Polar HRM chest strap that helps you monitor your heart rate while running/jogging.
You can be assured that you are making the right choice purchasing the FreeMotion treadmill as it is backed by a lifetime warranty on the frame and motor, five years warranty on parts, and a 2-year labor warranty.
Pros
Free iFit membership for one month
15ʺ high definition TV for entertainment
40 built-in workout programs for varying exercises
Easy to assemble
Small footprint
Withstands up to 400 pounds of user weight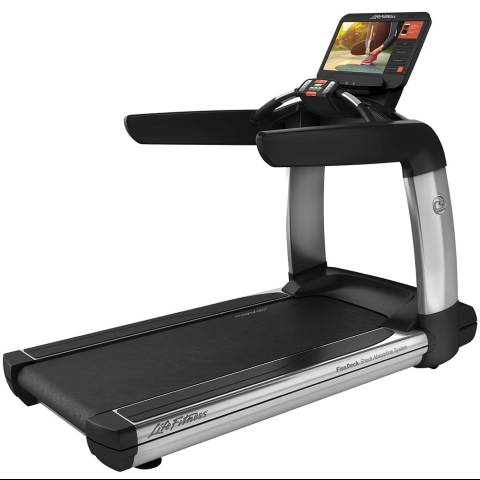 How about getting yourself a luxury treadmill within the four walls of your home? Yes, the Life Fitness Platinum Club Series treadmill is available in four different finishes and three different consoles, motivating you to buy anything of your choice.
The treadmill has a 4.0 HP motor that supports high-intensity training and long-duration runs/walks.
Surprisingly, the treadmill can go up to 8.0 HP at peak without making the slightest noise and go as high as up to 12 MPH.
You can vary inclination levels up to 15% in 5% increments, and the Flex-Deck provided with eight shock absorbers helps you reduce the impact on joints by as much as 30%, which is amazing.
The consoles provided are valuable, and you could choose any of the three premium consoles depending on your budget. This way, you can access limitless user-profiles and various fitness courses.
Any user up to 400 pounds of user weight can safely use this treadmill with super-quality TV for a wholesome fitness experience.
Pros
Different frame colors and premium console designs
Reduces impact on joints
Extra accessories such as a reading rack, accessory tray, and water bottle holder
Enhanced safety due to the presence of side rails
Lifelong frame warranty
Cons
Expensive pricing
Occupies much space and heavy
Some find the step-up height to be inappropriate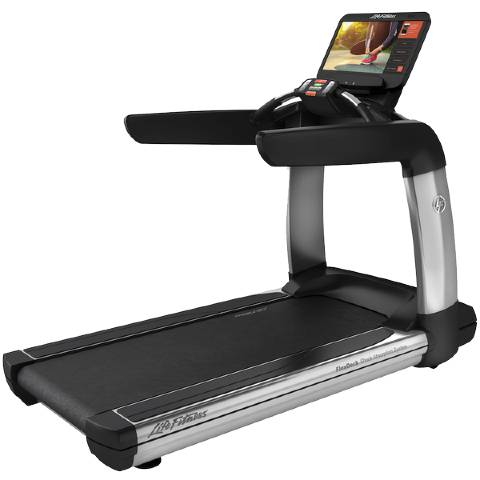 Life Fitness has developed a classic treadmill that combines both quality and technology in a balanced way. The FlexDeck shock absorption technology ensures that you exercise safely with minimal impact on your knees/joints—reducing impact up to 30%.
The Elevation series's specialty is the HD touchscreen provided, which keeps you entertained as you sweat it out vigorously on the treadmill.
Stream videos, enjoy limitless access to the Internet, and watch TV on this tech-savvy equipment that blends technology with health in a superb way.
You get to enjoy a whole range of in-built programs that include fitness tests, heart health, and more.
There are controls available on the handrails and on the consoles helping users swiftly switch between different speeds (from 0.5-14.0 mph). Using the same controls, you can also change incline levels up to 15%. This high incline treadmill is also durable enough to accommodate a user under 400 lbs.
Pros
Access to LifeScape interaction courses helps you enjoy different locations virtually
Polar telemetry for hands-free heart rate monitoring
Available in different colors
19-inch integrated touch screen with integrated TV and interactive running trails
Cons
Expensive
The product is quite heavy
How to Choose the Best Treadmill with TV and Big Screen
Numerous brands in the market offer attractive additional accessories and features to lure you as a customer. It is recommended to go through the vital factors below to help you choose between models and pay the price for the best treadmill with a TV that fits your bill.
#1. Treadmill Size & Your Available Space
Before you start looking out for models, take a perfect measurement of the available space in your place. Measure the length, width, and height of the available space. If you would be going for a foldable treadmill, find out the space needed to store it.
Compare the dimensions of the equipment with your measured specifications to ensure that both match each other.
The running space of the belt size impacts the size of the treadmill and your workout experience. For instance, if your primary focus is running or an expert running, you need at least a 20" x 60" belt.
Whereas, if walking is your main requirement, a belt size of 18-inch width is sufficient. Lengthwise, it should measure 55 inches if you are a runner and 50 inches if you are a walker.
The height of the user also affects the size of the equipment required. Tall users over 6 feet should ensure that the belt size is 60 inches long.
#2. Horsepower
Every treadmill survives on its motor power, and the motor capacity is denoted by strength (maximum it can reach or the continuous power [CHP] it can provide).
Get to know about the CHP measurements before buying any treadmill, but the primary question now is how much is good enough? This again depends on your requirements.
If you would be using the treadmill for walking, you must buy a model with at least 2 CHP, and if you want to run/jog on it, choose a model with 2.5 or 3.0 CHP.
Besides this, user weight and workout intensity also determine the CHP numbers needed. In a nutshell, any extra pressure imposed on the treadmill needs extra pressure and relevant CHP.
#3. Speed & Pitch
Every treadmill has a different maximum speed and pitch. The treadmill's speed, inclination, and decline movements are vital factors that affect the choices made by a buyer.
It is good enough if a treadmill can reach 10 or 12 MPH. Incline levels also determine the challenges that a treadmill poses to you. A 10% inclination is the standard requirement.
The treadmill also offers decline options, which give you a similar experience as running down a hill.
#4. Flexible Movements
For those who haven't set a perfect home gym, the idea of simply getting a treadmill and installing it in your living room is not going to be a great home décor addition.
In this case, you can look for a treadmill with a video display that's foldable and provide transportation wheels.
It would be even better to purchase a model that uses hydraulic technology, which makes folding the equipment extremely easy.
#5. Workout Programs
Even though you can develop variations in your workout routine, the availability of pre-loaded health or fitness programs can help you reach greater heights in your workout routine.
Without variations in your exercises, the body becomes used to the exercises and doesn't bring about your desired results.
Also, you need to follow a disciplined diet schedule and plan your activity smartly to reap the benefits of exercising using preset workout programs.
Above all, these programs break the monotony killing away boredom and bringing innovation to your fitness routine.
#6. Connectivity
You start working out but find it tiring by the middle of your exercise. Having a TV in front of you helps you overcome this tiredness and motivates you to complete the last mile of your activity.
You could even check out treadmills with provisions for auxiliary ports or Bluetooth options.
#7. Installation Choices
Fortunately, most treadmills come with easy-to-install options, which are highly beneficial for most people. Even if you must do the installation yourself, don't panic as it's easy to complete well under 75 minutes. Else, you could even pay for getting it installed.
#8. Weight Capacity
In general, treadmills come with a maximum weight capacity between 250 and 400 pounds. Remember that it is always better to go for a treadmill that withstands at least 50 pounds more than your body weight.
This way, you don't have to worry about your workout intensity at any point in time. You could keep up the rigor and pace throughout the session at peace.
And it is advised to place a treadmill mat under your treadmill, which safeguards your carpet or hardwood floor from rubbing or friction that can cause damage. And a treadmill for carpet is helpful to prevent dust from entering the motor, belt, and other major parts of a treadmill, making it easier for you to clean and maintain the machine.
#9. Usable Features
Though not every feature installed in the treadmill comes of help when you want to lose weight or gain muscles, it is also no secret that extra features make the routine fun-filled and even extend your exercising schedule.
Choose from ample different features offered by different machines and choose a model that provides you whatever you want—it might be an iFit membership, speakers, tablet holder, heartbeat monitors, etc. Choose those features that motivate you instead of distract you.
Final Words: Choose the Best Treadmill for Streaming?
You are passionate about setting your picture-perfect home gym in your apartment that would keep you as fit as possible. But a home gym primarily involves buying a treadmill that offers a great cardio workout for trainers of any fitness level.
Combine exercise with entertainment by purchasing a good-quality treadmill with a TV option and bring more fun to your training time.
Prioritize your requirements and specifications before choosing a treadmill with a TV. Whatever is your choice, make sure that you reach your health-related goal without fail.
Make use of the treadmill with the TV options given above to buy a product that fits your budget and satisfies your requirements.
Read Also: