If you are looking for a portable gym system and don't want to go with traditional gym equipment and try something new, then you can opt for the Gorilla Bow.
Yes, at first look, no one would say it is gym equipment, but it is a strength training equipment.
The creators of Gorilla Bow have converted the traditional bow and arrow into a home gym system.
So, if you are looking to learn more about this home gym system, then please read this review until the end and decide for yourself, whether it will suit your requirements.
Pros
The bow is made using high-quality aircraft-grade aluminum material
Comes packed with four resistance bands with different resistance levels
Offers up to 300 lbs of resistance
Portable design
Well worth the value
Provides various exercise options
Cons
The bar is long and cannot be folded
hard toIt might hard to set up and get under the bar with a heavier resistance
What Is the Gorilla Bow Home Gym?
If you are looking for a portable gym system, you don't have a lot of options to choose from. All you can see is some resistance band set available on the market.
Even though these resistance bands are suitable for general workouts, they don't provide too many exercise options. Sometimes, people get fed up doing a similar routine or the same kind of routine.
With a resistance band set, you are limited, with only a few exercise options. The Gorilla Bow makes use of resistance bands in a unique way than you normally see with traditional resistance band sets.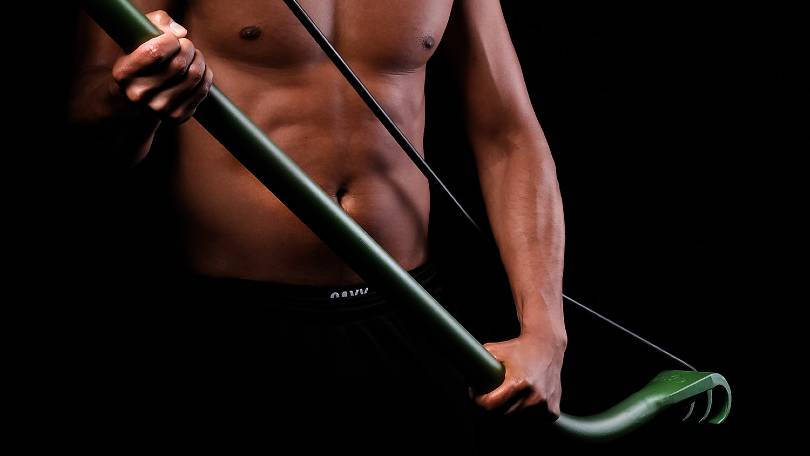 The team behind the Gorilla Bow decided to take up the traditional bow and have delivered ultimate fitness equipment by strapping a few resistance bands onto it.
Yes, the Gorilla Bow is one of the best portable strength resistance kits available on the market.
Made using aircraft aluminum, you can easily change the bow and the bands according to the level of resistance required. Even if you've never handled a bow, you very well know how it operates.
All you need to do is put the arrow in the slot, pull the string and shoot. But it is a lot easy to saying than getting done?
Yes, pulling the bow requires a coordinated effort from your upper body and when the time you release the arrow, you can feel many muscles are working in tandem at the same time.
And with a bow and arrow design, it doesn't mean that your workout option only involves just shooting patterns alone, there are various upper body exercises included as well.
The resistance bands are made using high-quality materials and can stretch to greater lengths, that you can perform various workouts including your regular shoulder press, squats, triceps and bicep curls, etc.
Know More About the Bow
Gorilla Fitness is a renowned manufacturer of fitness equipment, and Gorilla Bow is one of the most versatile fitness gym systems on the market today.
The machine is designed in the form of a traditional bow and resembles exactly like a bow.
Yes, you won't believe fitness equipment developed in the form of a bow or never seen one.
We have seen many resistance bands set on the market, but not one in the form of a bow.
The bow is built to handle a very high tensile strength of up to 300 lbs.
The bands are made using latex material and hence, people allergic to latex need to stay away from this home gym system.
Other than that, the bow is made using some of the top-quality materials which include aluminum used in the construction of aircraft.
Hence, we could see that the bow can withstand a lot of resistance and stand the test of time for longer periods.
The Bands
The portable home gym equipment is not like your other traditional home gym systems that you find in the market.
It is one of the simplest home gym systems that you can ever find.
It comes only with two sections, the bow, and the bands.
While the bow is made using high-quality aircraft-grade aluminum, the resistance bands are made using latex material.
The equipment contains four latex bands and each band comes with a different resistance setting including 10, 20, 32 and 45 lbs of resistance levels.
Fitted with a flex claw at both ends, it makes it much easier to attach/remove the bands quickly.
You are not limited to using the supplied resistance bands, but you are free to use your own bands.
Overall, these bands offers  107 lbs of resistance when you combine the resistance levels of all 4 bands. But you can always increase the resistance (up to 300 lbs) by adding more bands.
Travel Gorilla Bow VS Original Gorilla Bow
When it comes to comparing the differences between the Travel Gorilla Bow and the Original Gorilla Bow, we cannot see any major differences, except for the fact that the latter cannot be carried around easily.
Yes, the Travel Gorilla can be easy to travel with, as it is collapsible and lightweight.
Weighing only at 6 lbs, the Travel Gorilla Bow can be easily disassembled quickly into three components.
By default, the Travel Gorilla Bow offers a resistance of up to 350 lbs, whereas the original version only provides 300 lbs.
While you can easily disassemble and carry into your backpack, you cannot do the same with the Original Gorilla Bow.
Traveling athletes will find the original version is hard to carry around, but they can opt for the Travel Gorilla Bow.
It is a compact, mobile fitness home gym system that will help you carry out your workouts, no matter wherever you are.
Even though the manufacturer doesn't provide a storage bag along with the equipment, you can easily buy one online or from the Gorilla home gym equipment website itself.
When you compare the prices, the Travel Gorilla Bow is priced slightly a little higher than the original version.
Possible Exercises with Gorilla Bow
With the Gorilla Bow fitness equipment, you can do a lot of workouts.
Even though the work out options is lesser than a home gym equipment, you can still cover most of your upper body workouts along with various exercise options with this fitness equipment.
Let's see what the advantages and disadvantages that this equipment has to offer are:
Squats (front & back)
Bicep curls
Row workouts (Upright and crouching)
Calf raises
Tricep extensions
Chest press
Overhead press
Lunges
Crunches
Obliques
Warranty
The warranty is a major plus for this home gym system.
The Gorilla Fitness equipment comes with a 2-year warranty on not just the bow, but on the whole kit including the bands. This seems to be an excellent deal for users.
One of the main reasons that the manufacturer is able to give such a bold warranty is they think since the bow and bands are made using top quality materials, it is not prone to damage any time soon.
There is also a 90-day money-back guarantee offered. So, if people don't like fitness equipment, they can easily return the fitness equipment within 90 days and get their money refunded fully.
While most of the resistance bands out there will wear out in a couple of years, the Gorilla Bow comes equipped with bands with a 2-year warranty.
Hence, if you face any issues with bands getting damaged or any other issues, you could quickly get it replaced as the home fitness equipment comes with a warranty for the total equipment.
Conclusion
After our careful analysis of this fitness equipment, we can conclude that this portable home gym system is a solid piece of equipment and is worth every penny you invest in it.
The Gorilla Bow is completely portable and doesn't take a lot of space to store. It also offers people with various exercise options.
The only problem is that it cannot fold, but still, you can fit it easily in the trunk of your car.
Made using solid aircraft-grade aluminum materials, this fitness equipment can last for a lifetime.
People looking for a hassle-free gym functionality from the comfort of their home can easily go for home gym systems.
While there are many portable gym equipment on the market, nothing can be quite compared to this gym system.
The Gorilla Bow is one of the most unique gym systems that you can find on the market as of today.
And if you are looking for a simple home gym equipment, then you can easily go with the Gorilla Bow home gym system and you won't feel disappointed for sure 🙂