When you buy through links on this site, I may earn an affiliate commission at no extra cost to you. Learn more
Total Gym's top model is its GTS, as it is a fully equipped machine with the best warranty, ultimate load capability, maximum attachments, and the highest exercise options. In simple words, a commercial-level machine suitable to use at home.
Total Gym GTS comes with a gravity resistance system of high quality. Though it is intended for home use, it is nothing less than the other Total Gym equipment used in health clinics and clubs.
You can perform 200+ exercises using this machine, and it has 22 resistance levels. Though it seems a bit high on price, it does provide extreme comfort and is exceedingly useful.
Also, its exquisite look is something worth mentioning. Its bodyweight resistance system is useful in performing cardio, strength training, flexibility sessions, and many more workouts making it an all-in-one home gym machine.
While doing strength training, the pulleys are tremendously useful as they can be connected at six points to the frame, increasing the motion range. This arrangement gives your extremities an exceptional workout possibility.
It includes accessories such as a pull-up bar, press bar, abdominal trainer, squat station, and so on. An illustrated poster of exercises, videos guide you on how to use the machine for maximum benefit.
This is the best model of Total Gym training equipment and has an outstanding capacity to withstand the wear and tear caused due to daily usage from multiple users. It does come with a huge price tag, but it does offer equally or more valuable equipment.
Many interesting features unfold as you keep reading, which will leave you baffled as you would not expect them at home gym level. This is one advanced model of home gyms worth trying.
What I Like About
Up to 62 percent of your body weight can be used as resistance, giving you just the right amount.
Your body faces a lower impact than old-styled home gyms.
Glideboard seat is patented and is hence exclusive to the Total Gym equipment.
Get a whole body workout using the 200+ possibilities of exercises.
Suitable for taller users (under 7'2").
It folds into a compact space (38″ W x 20″ L x 56″ H) with a small footprint allowing you to use the space when it is not in use.
The 30-day money-back guarantee allows you to test the machine.
You can also do plyometric exercises.
Many resistance levels are useful for gauging your strength.
Several accessories can provide you with lots of variety of workout options.
The exercise guide and workout DVD are included.
Includes professional assembly.
Weight capacity of 650 lbs.
What I Don't Like
Requires more space to unfold and use.
Warranty on parts is limited to 1-year.
The high price is not affordable for everyone.
Total Gym GTS Specifications
Available Workout: Over 200
Resistance Levels: 22
Foldable or Not: Yes
Assembly Required or Not: Required
Weight Capacity: 650 lbs
Unfolded Dimension: 38″ W x 107″ L x 69″ H
Folded Dimension: 38″ W x 20″ L x 56″ H
Warranty: 5-year Warranty on Frame, 1-year Warranty on Parts & Upholstery, 90-day Warranty on Foam & Rubber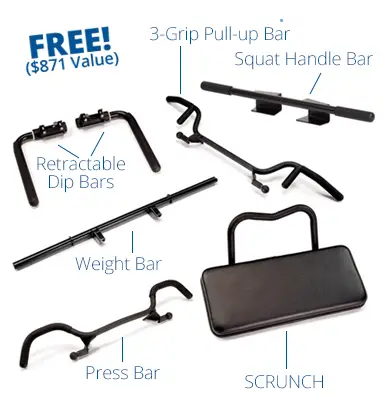 The following accessories are all included with the Total Gym GTS sale price:
Abdominal crunch tool
Soft grip LAT bars
Folding Foot Holder
3-Grip Pull-up Bar
Arm pulley system
Foldaway lateral bars
Squat stand with wide non-skid base
Pilates toe bar
Press bar
Weight bar that can accept plates
SCRUNCH
Squat Handle Bar
Retractable Dip Bars
Dynamic Unilateral/Bilateral Arm Pulley System
Total Gym GTS Available Workouts
Total Gym GTS comes with commercial-grade durability. It gives you a total body workout yet has minimal stress due to low impact on your joints. Moreover, the GTS model supports 200+ exercises and is more than triple the number of entry-level machines around 60.
The illustrated guide can be attached to the frame in the specified place, and the DVD will offer you complete guidance.
DVD is useful in training you for many kinds of exercise, including recovery training, cardio, toning muscles, and improving the range of motion. You even get short workout routines for finding time in between your demanding schedules.
The display chart will help you understand how to use the accessories such as weight bars, pulleys, and other accessories. You can also do plyometric or jumping exercises using this machine.
The provision to add weight plates to the weight bar is a wonderful addition and allows you to control how much weight you need. When you add weights while doing squats or pushups, you can accomplish high-level strength training, meaning you can get great resistance using this machine.
Other Features & Accessories of Total Gym GTS
The log glideboard supports your body well and comes with a detachable footboard as well as a headrest. It has extra padding that adds comfort, a luxury not found in other glide boards of Total Gym.
The 22 levels of resistance settings and seven adjustable angles of glideboard are ample enough to target every part of your body with excellent power.
Many useful accessories are included along with the machine and make several exercises possible using this equipment.
Using abdominal crunch attachment, you can strengthen your bones, improve your posture and sculpt your muscles.
The arm pulley is adjustable for any breadth and height, which is useful in many workouts in several ways.
Lateral bars come with a fold-away facility and soft grips that are useful during pull-ups.
The squat stand comes with a wide anti-skid base, three height settings, and a handle.
Sculpting your legs is a breeze using the 12 exercises performable with the help of the Pilates toe bar.
Targeting the upper back, shoulders, and triceps is possible using the press bar with narrow and wide grips.
Add weights to the weight bar to crank up your workouts a notch higher.
The nice-foot-long device folds into 20" long equipment giving you free space.
Resistance Levels
The sliding board base's height, when adjusted, provides you with different levels of resistance, and you can decrease or increase the resistance as required.
This model comes with 22 levels which are way higher than other Total Gym models, which have somewhere about 6 to 12 levels at most.
The higher levels of resistance help in greater intensity workouts which are very effective even for advanced users. Also, due to the precise positioning, you can use it for recovery training of certain parts using the right resistance suitable for that part.
The smaller steps also ensure that you do not take large leaps with resistance and gradually improve your strength without injuries.
When you compare it with the other Total Gym models, which are at least 10 resistance levels short, you will understand the calibration difference. Since it comes with an inbuilt hydraulic system, you can easily change the resistance levels.
Assembly
You do require assembly for this machine, which is different from the other Total Gym machines that can be used straight from the box.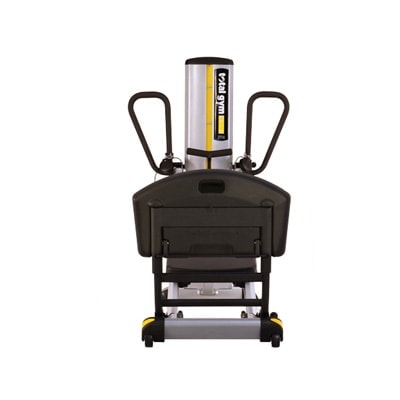 But the good thing is you will be provided with professional assembly support, and it is already included in the equipment's price.
It might take anywhere between 2 to 3 weeks of an average wait time from receiving the order to getting it ready to work through the professional assembly.
On the contrary, if you are capable of assembling this gym by yourself, you can still do it without much difficulty. Much of the equipment comes already in place, and you need to attach some handles, lat bars, and the squat stand in place.
Though the process itself is straightforward, the machine's weight is not so easy to manage. The machine's robustness makes it easier to handle professionals because of its hefty size and heavyweight.
Another important factor to keep in mind is to allow enough space for the equipment. As it is large, you will need up to 9 feet of space when you unfold it (unfolded dimension: 38″ W x 107″ L x 69″ H). However, you can fold it when not in use into a small space (38″ W x 20″ L x 56″ H), allowing you to use it for the rest of the time.
Weight Capacity
It has an impressive weight capacity of 650 lbs. which is way higher than all its machines. The higher weight capacity also allows you to use weights for training where you need not compromise on how much weight you will use.
Warranty
5-year Warranty on Frame
1-year Warranty on Parts & Upholstery
90-day Warranty on Foam & Rubber
Total Gym GTS Comparison
Final Words
Total Gym offers a wide range of strength training equipment which comes from budget costs to premium prices. The performance also varies at the same level, and you get ultimate workout features with impressive performance.
Every single specification is top-notch in this high-end model. You can perform 200+ exercises using this machine, which has a very low impact on your joints.
You can choose in any budget range and get the job of exercising done, but this is the go-to machine for those who prefer comfort and class. 22 resistance levels, 650 lbs weight capacity, and 3 attachments are a few of the many impressive and mention-worthy features.
No other Total Gym machines offer the ability to perform Plyometric style of moves that involve jumping, using the squat stand.
It is one of the most advanced machines for home gyms and lasts very long, making the investment worthwhile as you keep working for years together.
Read Also: