When you buy through links on this site, I may earn an affiliate commission at no extra cost to you. Learn more
Toning your body does not require many exercising tools. All you need is only a Total Gym machine that offers tons of workout options to make you fit and healthy.
Total Gym X-Force model works on bodyweight training which is highly efficient and safe for weight loss. This resistance method is significantly used for improving your core strength, where you also get to improve your posture.
Since it does not require any setup, you can start using it right away from the box as soon as you open it. You can save a lot of time and work out conveniently at your home using the Total Gym X-Force.
Total Gym X Force is a total body workout machine that provides you with 60+ exercises. The DVDs and the flip chart with guidance on exercises help extract maximum benefit from this machine.
It has a load-bearing capacity of 350 lbs. Working your lower body, hamstrings, calves, upper body, and other important muscle groups is a breeze using this home gym.
You get to engage your core muscles and tone your abdominal area along with strengthening it. This allows you also to tighten your obliques and gives properly formed glutes.
As it comes pre-assembled, you need not worry about assembling it and can start working out immediately. There are several other interesting features you get to know about this model as you read.
Check the price of Total Gym X-Force on Amazon.
What I Like About
Stability
It comes with an anti-slip mat that helps you keep the machine in place without slipping while you work out, adding to your safety. The construction is sturdy enough to stay well-balanced as you do your reps.
Usage Versatility
This machine comes with many accessories that help you perform variable exercises to develop core strength. It not only helps you to target a specific muscle group but also allows you to tone muscles. You can perform recovery exercises as this machine has a low impact on your joints.
Exercise Options
With about 60 exercise options, you can perform almost every exercise you need to target the main muscle groups in your body. You can do cardio, ab toning exercises, and many other such highly efficient exercises.
Extra Comfort
The padded pillow helps you to keep yourself comfortable while exercising. This head support keeps you relaxed while you concentrate on your workouts.
Pre-Assembled
This machine comes pre-assembled, allowing you to use it as soon as you receive it. You need not struggle with its parts or with any manual having inept instructions to get it working.
Impressive Weight Capacity
The 350 lbs of weight capacity are good compared to its counterparts, especially in the home gyms category. This capacity can allow most users to work out on it.
What I Don't Like
Limited Warranty
Just one year warranty on frame as well as parts is a short period. It would have been nice if they offered a little longer warranty.
Learning Curve
This machine requires a little practice to get the hang of doing the workouts right. Since you get to do some advanced movements using this machine, it may seem not very easy for beginners, but you will learn it soon once you start using it.
Capped Resistance
When you use bodyweight as resistance, it is safe, but it also limits the resistance. You might surpass the level at some point, and this resistance might not be enough to push your intensity further.
If you are into advanced training, which requires way more resistance, consider other Total Gym models, which offer higher resistance with several levels.
No Weights
It does not come with weights to add more resistance to the workout. Also, no provision is there to add weights to the moving board even if you buy them separately. If you are used to using weights to work out, consider getting a weight stack home gym.
Check the price of Total Gym X-Force on Amazon.
Total Gym Xtreme Available Workouts
From strength building to abdominals, you can perform 60+ exercises using this machine. This Total Gym comes with many accessories which help you exercise certain muscles as per your requirement.
For instance, the dip bars will target your deltoids, triceps, and pecs. Similarly, the wing accessory you attach to the bottom or top of the rails is useful for shoulder presses, leg curls, and pull-ups.
As already mentioned, you get many accessories with X-Force, and we will know about them in detail here. The leg-pulley kit includes a foot harness, o-ring, clip, pulley assembly, and rope.
Coming to the other accessories, you have wing attachments, an ab crunch board, dip bars, and shaper bars with tri-grip. The best thing is that these accessories hook up quickly and easily to the machine without much effort.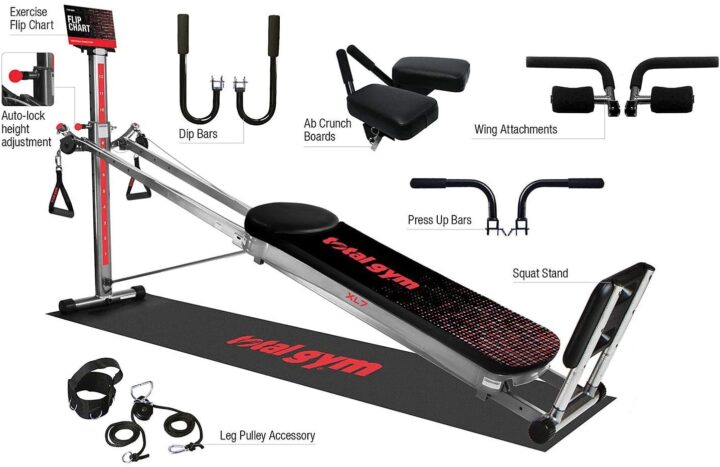 Also, using them is very straightforward, and within few times of working, you get proficient at using them. The 2-piece anti-skid mat set gives protection to your floor as well as prevents the machine from sliding.
Training DVDs, a nutrition plan, and an exercise chart are some of the extra perks you get with this machine for maximizing the result of your fitness training.
Resistance Levels
X-Force model is ideal for reducing the body weight, curbing the fat, burning excess calories, and giving some definition to your muscles using its 12 levels of resistance. You can adjust the resistance level to different calibrations according to your need and capability.
However, if you are looking for building strength, you might want to look at other models as this machine does not do justice.
Assembly
Though the machine comes as already fully assembled, there are few things you must still know about the machine in this regard. You need to attach and detach the accessories as per the requirement.
Also, height adjustment should be made every time you need to revert to a neutral position before folding it for storage.
Weight Capacity
It comes with 350 lbs of weight capacity, meaning you can use this machine within the specified weight range, and if you exceed it, you might break it or deform it. If anything happens to the machine due to overload, it will also void the warranty,
It is best to take care that you use it only as instructed for the machine to last long.
Warranty
Though the warranty differs from store to store, you will certainly get at least a 1-year warranty for the X-Force model.
Included DVDs
The DVDs coming with this machine are very useful in avoiding confusion and getting started with the pulley system, which is not easy to do without guidance. Beginners and people who never used such machines will find it extremely helpful.
Not only the set-up process, but you also get several workouts that are bound to increase the intensity and effectiveness of your exercises.
Check the price of Total Gym X-Force on Amazon.
Total Gym X-Force vs. XLS
Here I provide you with a comparison of the two most selling models of Total Gym, which will give you further insight into Total Gym brand and the current discussed model. So, let us compare X-Force and the XLS models below.
X-Force comes with 60+ exercise options, whereas XLS allows 80+ exercises.
X-Force has 12 resistance levels, but the XLS model has only 6 levels of resistance.
X-Force has a maximum load capacity of 350 lbs. The XLS model's maximum weight-bearing capacity is 400 lbs.
X-Force is foldable but does not have wheels for moving it easily, where XLS is also foldable and has rollers to move it easily from place to place.
There are several other differing features in both the models, but this gives you an idea of how Total Gym manufactures their products by keeping different user needs in mind.
Final Words
The ergonomically designed resistance system based on pulleys is challenging enough to provide you excellent workout in the comfort of your home. It is suitable for small spaces as it is foldable and comes pre-assembled, which is very convenient.
You get a durable and stable machine with plenty of accessories and guidance, which is all you need from your exercising gear.
Check the price of Total Gym X-Force on Amazon.
Read Also: